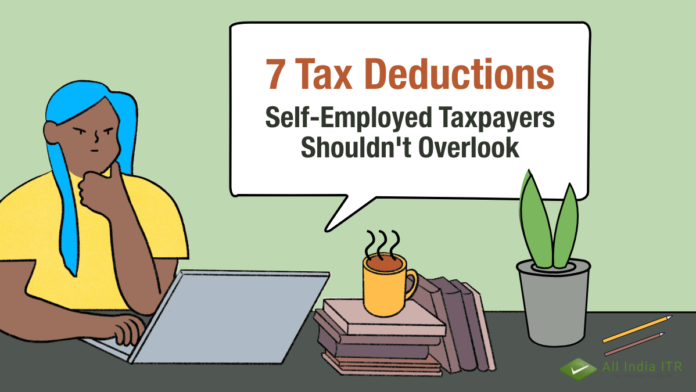 Being a self-employed individual can be a difficult career path to follow. There are so many things to consider including logistics, client handling and expenditure. However, amidst all the hullabaloo of handling a business, finding out how you can save money is a life-saving hack. We decided to compile a list of 7 tax deductions for self-employed taxpayers which can be availed under the Income Tax Act, 1961, listed in the table given below:
Sections
Income Tax Deduction for FY 2019-20 (AY 2020-21)
Who can Avail?
Limit for Deductions
Section 80C
Investing into very common and popular investment options like LIC, PPF, Sukanya Samriddhi Account, Mutual Funds, FD etc
Individual
Or
HUF
Up to Rs 1,50,000
Section 80D
Medical Insurance Premium and Medical Expenditure
Individual
Or
HUF
Up to Rs 1,00,000
Section 80E
Interest paid on Loan taken for Higher Education
Individual
100% of the interest paid up to 8 assessment years
Section 80EE
Interest paid on Housing Loan
Individual
Up to Rs 50,000 subject to some conditions
Section 80GG
Income Tax Deduction for House Rent Paid
Individual
Rs 60,000/-
25% of Total Income
Rent paid – 10% of Total Income
– whichever is lower
Section 80CCC
Investment in Pension Funds
Individual
Up to Rs 1,50,000
Section 80GGC
Individuals on contribution to Political Parties
Individual
HUF
AOP
BOI
Firm
100% of the amount contributed.
No deduction available for contribution made in cash
You can also get assistance in filing your ITR with us at All India ITR.