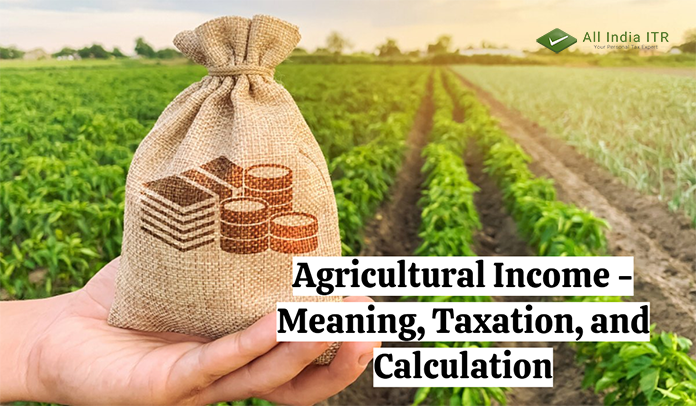 Agricultural Income is the rent or revenue generated from the land which is utilized for agricultural purposes. It additionally incorporates income from agricultural operations by selling agricultural products in the market. Agriculture is supposed to be the primary occupation in India. It is normally the main kind of revenue for the huge rural population in India. The nation overall is totally reliant on farming for its essential food prerequisites.
Meaning of Agricultural Income
The Income-tax Act has its own definition of agricultural income which constitutes the following 3 main activities:
Rent or revenue got from agricultural land situated in India
Rent is the consideration for the right to utilize the land. The scope of the potential sources of income that can be derived from land is many. Example: fees received for renewal of grant of land on lease. However, revenue from land does not include consideration received on the sale of land.
Income Derived from Agricultural Land in the Following Ways
Agricultural Income consists of two types of operations
The basic operations would incorporate cultivation of the land and therefore tilling of the land, sowing of seeds, planting, and all such tasks that require the human expertise and operations directly on the land itself.
The subsequent operations would incorporate tasks that are done for development and preservation of the produce like weeding, burrowing soil around the crops grown and so forth and furthermore those activities which would make the produce fit for use in the market like tending, pruning, cutting, harvesting, and so on. Income derived from saplings or seedlings filled in a nursery would likewise be viewed as agricultural income whether or not the basic operations were carried out on land.
Through the Performance of a Process by the Cultivator or the Receiver of Rent in kind that results in the Agricultural Produce Being Fit to be Taken to the Market
Such processes include manual or mechanical activities that are commonly utilized to make the agricultural produce fit for the market and the original character of such products is retained.
Through the Sale of Such Agricultural Produce
Where the produce doesn't go through standard cycles utilized to make it marketable, the income arising on sale would commonly be mostly agricultural (exempt) income and a piece of it will be non-agricultural (taxable) pay. The Income Tax has endorsed rules to make this bifurcation with respect to agricultural and non-agricultural produce for products like tea, espresso, elastic, and so on.
Income Derived from Farm Building Required for Agricultural Operations
The building should be on or in the prompt region of the agricultural land and is one which the receiver of rent or revenue or the cultivator, by reason of his connection with the land, requires the building as a house to remain or as a storehouse, or uses it for these sort of circumstances.
Either of the two conditions should be satisfied
The land is evaluated by either land revenue or a local rate surveyed and gathered by government officials;
OR
If the above condition is not satisfied, the land should not be located within the following region:
| | |
| --- | --- |
| Aerial distance from the municipality | Population as per last preceding census |
| Within 2 km | 10,000 to 1,00,000 |
| Within 6 km | 1,00,000 to 10,00,000 |
| Within 8 km | > Rs. 10,00,000 |

The municipality includes municipal corporation, notified area committee, town area committee, town committee, and cantonment board.
Indeed, even where the local population is < 10,000, the land should not be situated within the jurisdiction of the local municipality or cantonment board. In situations where the activities have only some distant relation to land like dairy farming, breeding, rearing of livestock, poultry farming, etc. they do not form a part of agriculture income.
Examples of Agricultural Income
Income derived from the sale of replanted trees.
Income from the sale of seeds.
Rent received for agricultural land.
Income from growing flowers and creepers.
Profits received from a partner from a firm engaged in agricultural produce or activities.
Interest on capital that a partner from a firm, engaged in agricultural operations, receives.
Taxation of Agricultural Income
As discussed above, agricultural income is exempted from Income Tax. In any case, the Income-tax Act has set out a strategy to indirectly tax such income. This technique or idea might be called the partial integration of agricultural income with non-agricultural income. It aims at taxing the non-agricultural income at higher rates of tax.
This is applicable when the following conditions are met:
Individuals, HUFs, AOPs, BOIs, and artificial juridical persons need to compulsorily calculate their taxable income utilizing this strategy. Hence Company, firm/LLP, co-operative society, and local authority are excluded from using this strategy.
Net agricultural income is greater than Rs. 5,000 during the year;
Non-agricultural income is:
Greater than Rs. 2,50,000 for people under 60 years old and all other appropriate people
Greater than Rs. 3,00,000 for people between 60 – 80 years old
Greater than Rs. 5,00,000 for people over 80 years old
In simple terms, the non-agricultural income should be more prominent than the maximum amount not chargeable to tax (as per the slab rates).
Calculation of Agricultural Income
To start with, include the Agricultural income while calculating your income tax liability. Example– Let us state that an Individual Assessee has a Total income of INR 7,50,000/ – (excluding Agricultural income) and a Net Agricultural income of INR 100,000/ – . Then, tax shall be computed on INR 7,50,000/ – + INR 1,00,000/ – = INR 8,50,000/ – . Hence, the income tax amount according to this progression will be INR 82,500/ – for a person who is under the age of 60 Years during the P.Y. 2019-20.
Add the applicable basic Tax slab benefit, as relevant, to the Net Agricultural Income. The, we will add INR 2,50,000/ – to INR 1,00,000/ – as the applicable tax slab benefit available to a person below 60 Years old enough is INR 2,50,000/ – . Presently we will compute income tax on INR 3,50,000/ – (Tax slab benefit 2,50,000 + Net Agricultural income 1,00,000). The amount of Tax will be INR 10,000/ – .
Subtract the Tax computed in the Second step from the Tax computed in the First step = INR 72,500/ – . Along these lines, this is the income tax liability subject to deductions, Education cess, and so forth,
For more information, visit the website of All India ITR