Taxation is an integral part of the governance in India. There are several taxes which a taxpayer is required to pay during a Financial, the most popular ones being Income Tax and Goods and Services Tax or GST. The above-mentioned taxes are levied on the goods and services, purchased and sold by the individuals or enterprises as well as the taxes are levied on the income that an individual earns either from salary or business during the relevant Financial Year.
Download Click Here and use our Android App to file Income Tax Return
While talking about taxation in India, how can we miss out Entertainment Tax? So, let's understand Entertainment Tax in a better way.
What is Entertainment Tax?
Entertainment tax is a form of tax that is levied by the Government on the movie tickets, large-scale commercial shows and various other private festival celebrations.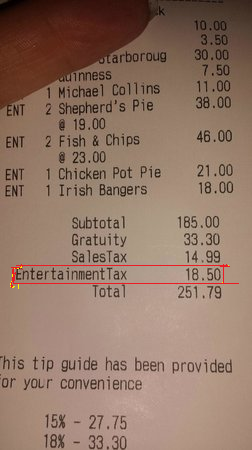 Download Click Here and use our IOS App to file your Income Tax Return
How is Entertainment Tax levied in India?
As we already mentioned above, entertainment tax forms a major part of the tickets we purchase to watch a movie or for any big entertainment programme. Here is how Entertainment Tax is levied in India.
Basically, it is levied on various forms of entertainment, across the country.
State Governments are the authorities, that are responsible for the collection of this tax.
This tax is levied in different states at different rates.
All the rules and Guidelines applicable for Entertainment Tax in India are as per Article 246 of the Indian Constitution.
Various cable TV connection has led to more taxes being levied on the entertainment.
Entertainment Taxes is levied on the following types of entertainment too: –
Exhibitions
Activities related to sports
Amusement Parks
Arcades
Celebrity Stage Shows
Theatre Plays
Video Games
What are the rates at which Entertainment Tax is levied in various States?
Here is the rates at which Entertainment Tax is levied in the Indian States.
| | |
| --- | --- |
| State | Tax Rate |
| Jammu & Kashmir | 0% |
| Rajasthan | 0% |
| Himachal Pradesh | 0% |
| Punjab | 0% |
| Tamil Nadu | 15% (All the Tamil films are tax-free in the state) |
| Assam | 15% (for tickets that cost less than Rs.20) and 20% (for tickets that cost anything above Rs.20) |
| Andhra Pradesh | 20% |
| Gujarat | 20% |
| Madhya Pradesh | 20% |
| Delhi | 20% |
| Orissa | 25% |
| Jharkhand | 110% |
| Bihar | 50% |
| Haryana | 30% |
| Kerala | 30% |
| Karnataka | 30% |
| West Bengal | 30% |
| Maharashtra | 45% |
| Uttar Pradesh | 60% |
This tax was first ruled out during the British Era, the main purpose for this tax was to put an end to public gatherings. However, this tax was levied post-independence and is still levied on the various types of entertainment.