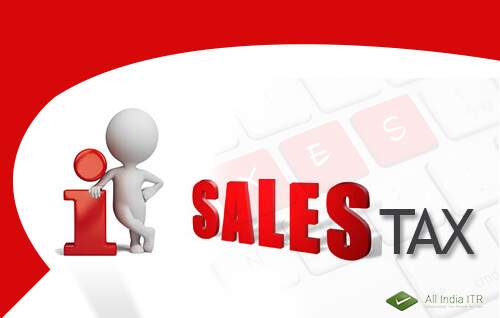 Sales tax is a form of Indirect Tax that is levied on the sale of goods and services in an economy and is imposed at the point of exchange and/or purchase of taxable items. It is not levied on the resale of the same commodities without any value-addition and is also charged on contractual work and leases. It is generally calculated as a certain percentage of the value of the purchased products.
All That You Need to Know About Sales Tax
Sales tax is imposed under the jurisdiction of both Central and State governments. It can be broadly classified as Central Sales tax (charged by the Union Government) and Sales tax (charged by the State Governments). The imposition of Central Sales tax takes place when goods are sold during an inter-state trade or commerce or are sold outside the borders of a particular state or are imported or exported.
FEATURES
Sales tax is collected on the actual purchase of goods and services by the seller from the final consumer which exclusively makes it a consumption tax. It is always easy to calculate it as it is charged as a percentage of the final value of commodities. Also, it varies geographically and is determined by states, cities and local municipalities.
TYPES
Though Sales tax varies as per the governing principles pursued by the government, a few remain universally applicable. They are listed below.
Retail tax: It is levied on the sale of retail goods and is paid by the final consumer.
Wholesale tax: It is imposed on individuals dealing with the distribution of wholesale goods.
Manufacturer's tax: It is charged on the manufacturers of certain goods.
Use Tax: It is imposed on the consumers of goods that are bought without the payment of Sales tax. Why GST will be more helpful for the start-ups.
VALUE ADDED TAX (VAT)
VAT is a type of Indirect Tax which is levied on the producer when commodities are purchased by their final consumer. Though it is imposed on the producer, VAT is paid by the customers to every seller who then pays it to the government. Being an Indirect Tax, it's an immensely important part of the GDP of any economy. In a nutshell, VAT is the tax that is imposed on the value added at each level of production of goods and services.
DIFFERENCE BETWEEN VAT AND SALES TAX
There are a few differentiators which draw a distinction between VAT and Sales Tax.
Vat is paid by both consumers and producers while Sales Tax is only imposed on the consumers.
Calculation of VAT is more complex than that of the latter.
VAT is charged on different levels of production while Sales Tax is charged on the final value.
VAT can't be evaded while the latter can be fiddled with.
EFFECTS
As per the economists at Organisation for Economic Co-operation and Development, Sales tax is believed to be the least detrimental to the growth of an economy. Though, it is considered to be regressive as its rate doesn't change with the economic and financial status of an individual. Various measures such as the exemption of basic goods like food, medicines, and clothing have been taken to reduce its regressive effect. Tax Saving Funds Can Save Bigger on Income Tax Return.
TAX EXEMPTION
As Sales tax is only levied upon the final consumer, an exemption from this tax is offered to the resellers such as retailers or wholesalers. An authentic states resale certificate is to be provided as a proof of being a reseller. It is also spared on the sale of goods and services to the tax-exempt organizations such as schools and charity trusts.