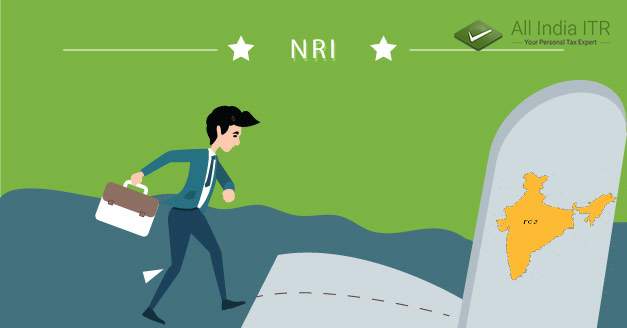 The Indian diaspora is quite big and lives across different countries worldwide. But despite prospering in different countries worldwide, they are still attached to their roots in India and some of them are having properties and business in India. Also called non-resident Indian they give a boost to Indian economy in various ways including paying tax. A non-resident Indian is an individual of Indian origin or a citizen of India who resides outside India. The obligation of an NRI to file income tax depends on their residential status:
An NRI's Guide to Tax e-filing in India
a) For an individual having the status 'resident', their entire global income is taxable in India. This income may have been earned in or outside India. If the income earned in another country is also taxable, residents can take advantage of DTAA (Double Tax Avoidance Agreement). Tax relief can be claimed under DTAA through two routes:
1) Exemption method: The NRI is exempted in once country and taxed in the other.
2) Tax credit method: Tax is levied on the income in both countries but tax credit claimed only in one.
b) For an individual having the status 'NRI', only the income earned/accrued by them in India is taxable. Income earned outside India by an NRI is not taxed.  The NRI is required to pay taxes if their income exceeds the exemption limit for the financial year. If their tax liability exceeds Rs.10000, they have to pay advance tax. If advance tax is not paid, under Section 234B and Section 234C, interest is applicable.
Income from the following sources is taxable for NRI:
1) Salary: Salary earned in India/salary earned by providing a service in India is taxable for an NRI. However, a government of India employee, who is a citizen of India but provides their services abroad, has their salary taxed as per the Indian tax code (ambassadors and diplomats are exempt from income tax). That is, an NRI receiving his salary in an Indian bank account will be subject to tax as per Indian laws. Tax is levied on the income based on the tax slab the NRI belongs to.
2) Property: Income earned by an NRI from property (vacant or rented) in India is taxable. Tax is levied on the income based on the tax slab the NRI belongs to.
3) Remittance: Form 15CA has to be submitted online by an individual making a payment/remittance to an NRI. In certain cases, Form 15CB (certificate obtained from a chartered accountant/CA) is needed before submitting Form 15CA. In Form 15CB, a chartered accountant certifies the following details:
– Payment particulars
– TDS rate
– DTAA (Double Tax Avoidance Agreement) (if applicable)
– TDS deduction according to Section 195 of the Income Tax Act
– Miscellaneous particulars regarding the purpose and nature of remittance
4) Income from Profession and Business: NRIs earning income from a business set up or controlled in India will have their income subject to tax in India.
5) Income from Capital Gains: Investment in Indian assets by an NRI is taxed at the rate of 20%. However, if an NRI earns income only from 'special investments' and TDS has been deducted from the same, they do not need to file an I-T return. The following assets, when purchased using foreign currency, qualify as 'special investments':
– Share belonging to a private or public company
– Assets issued by the central government as mentioned in the official gazette for the purpose of special investment.
It should be noted that the exemption limit is not applicable to an NRI if the only source of their income is short term capital gains taxed at a special rate and/or long term capital gains.
6) Income from Other Sources: NRIs have to pay tax on interest income earned on savings accounts and fixed deposits held in Indian bank accounts. NRO accounts have interest income which is completely taxable. Interest earned on FCNR and NRE is not subject to tax.
The following deductions are available to NRIs filing tax:
1) Tuition fee payment for children: Tuition fees paid by an NRI to any Indian educational institution, for the full-time education of maximum two children, is tax deductible.
2) Principal repayments on property loan: Repayment of a loan taken for the purpose of constructing or purchasing a house is tax deductible. Interest on home loan and property tax are also tax deductible.
3) Unit-linked insurance plan (ULIPS): ULIPS, sold with life insurance, is eligible for deduction under Section 80C.
4) Life insurance premium payment: NRI can claim a deduction on life insurance premium payments if the the policy has been bought in the NRI's name or in their spouses name or their child's name (the child may be independent/ dependent, major /minor, or unmarried / married). However, the premium must be less than 10%, for the NRI to be eligible for the deduction.
5) Premium paid on health insurance: Premium paid on health insurance is tax deductible for NRIs. A maximum deduction of Rs 20,000 can be claimed if the NRI is a senior citizen. Else, maximum deduction of Rs 15,000 can be claimed by the NRI from themselves, their dependent children and their spouse. Deduction up to Rs 20, 000 can be claimed if the NRIs parents are senior citizens and a deduction up to Rs.15000 can be claimed for parents who are not senior citizens. A maximum deduction of Rs.5000 can be claimed for preventive health care.
6) Interest paid on education loan: Interest paid on education loan (for the NRI, their children, spouse or a student who is under the guardianship of the NRI) is tax deductible. There does not exist a limit on the amount that can be claimed as a deduction on the interest paid on an education loan. However, the repayment of the principal amount on an education loan is not a tax deductible event. The deduction can be claimed till the interest is paid or for a maximum period of 8 years – whichever occurs earlier.
7) Interest income on savings account: NRIs can claim a maximum deduction of Rs 10,000 on interest income from a savings bank account held with a bank, post office or co-operative society.
8) Donations: Donations made by NRIs are eligible for a tax deduction if according to Section 80G of the income tax act.
The last date for an individual NRI to file income tax is the 31st of July of every financial year. However, if the NRI is a partner in a firm, the last date for filing income tax is 30th September of the financial year. If they miss the last date, a belated return can be filed.