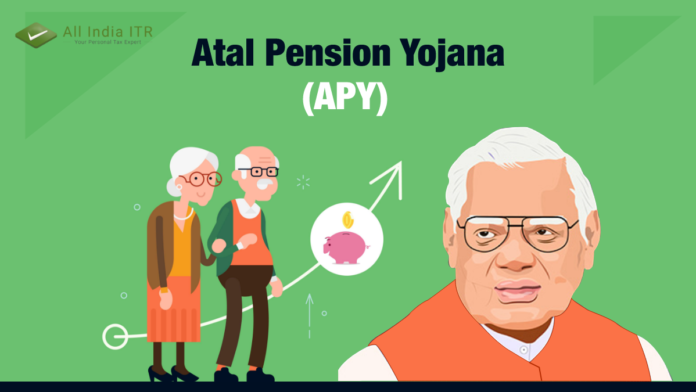 Atal Pension Yojana (APY) is a social security scheme which was launched by the government to support the unorganized sector which includes personal maids, drivers, gardeners and others. This scheme was launched as a replacement to previous government's Swavalamban Yojana NPS Lite, which failed to illicit a proper response from the people.
The objective behind launching this scheme was to help these people save a decent amount for their old age while they are still working and guarantee returns post-retirement. The scheme also promises a 50% co-contribution by the Central Government of the total prescribed contribution by a worker up to Rs 1000 per annum, but only to those who joined the scheme before December 31, 2015. Furthermore, this co-contribution will be made only for a duration of 5 years, from FY 2015-16 to 2019-20.
Eligibility
An Indian citizen
Have a valid bank account
Are between 18 and 40 years of age.
The monthly contribution
APY is a periodic contribution-based pension plan which promises returns from Rs 1000 to a maximum of Rs 5000. The contributions depend on the amount of pension you want to receive monthly, and the pension starts by the age of 60.
APY Benefits
The APY promises guaranteed pension of Rs 1000 to Rs 5000 to the subscribers, including a benefit of increasing or decreasing the pension amount once a year during the accumulation phase.
In case of death of subscriber, the pension amount shall be transferred to the spouse of the subscriber. In an event of death of both the subscriber and the spouse, the nominee shall receive the pension amount accumulated till the age of 60 years.
In the event of death of subscriber happening before the age of 60 years, the spouse will have an option to continue maintaining the account or exit and claim the accumulated amount.
Account Maintenance charges
Summarised below are the account maintenance charges for Atal Pension Yojana:
| | | | |
| --- | --- | --- | --- |
| Intermediary | Charge Head | Service Charge | Method of collection |
| Points of presence | (i) Initial subscriber Registration | Rs 120 to Rs 150 depending upon number of subscribers | Paid by government as incentive |
| Intermediary | Charge Head | Service Charge | Method of collection |
| | (ii)Subsequent persistence | Rs 100 per annum per subscriber | Promotion and development charges for APY |
| Central Recordkeeping Agencies | (i) Account opening charges (ii) Account opening charges | Rs 15 per account Rs 40 per account per annum | Cancellation of units. |
| Pension Fund Manager | Investment Management Fee | 0.0102% per annum of AUM | Adjusted in Net Asset Value |
| Custodian | Investment Maintenance Fee | 0.0075% for electronic and 0.05% per annum for physical segment of AUM | Adjusted in Net Asset Value |
Penalties
The deductions will be made in the account of the subscriber for maintenance of the account as well as other related charges on a periodic basis. Once the account balance reflects zero, the account will be immediately closed. If there is a continuous default on subscriber's part, then the account shall be frozen by the authorities, if the default is for continuous 12 months then the account is closed, and after the deductions are made, any remaining amount is given back to the subscriber. For delayed contributions a penalty of Rs 1 per month for contribution of every Rs 100, or part thereof, for each delayed monthly contribution. This implies:
Rs 1 per month for contribution up to Rs 100 per month.
Rs 2 per month for contribution up to Rs 101 to 500 per month.
Rs 5 per month for contribution between Rs 501 to 1000 per month.
Rs 10 per month for contribution beyond Rs 1001 per month.
Withdrawal
Post completing 60 years of age
After completion of 60 years of age, the subscriber can approach the bank and submit a request for a withdrawal of pension. In case of death of the subscriber before the age of 60 years, the spouse is eligible to collect the pension amount. In a situation where both the subscriber and spouse have passed away the nominee would get the whole pension amount.
Voluntary exit before 60 years
Voluntary exit in APY is not permitted. Though, in certain circumstances, as in case of terminal illness or death of subscriber it can be allowed. In case of a subscriber who has opted for a government co-contribution, they shall be refunded only the amount which has been contributed by them.
The concept of Atal Pension Yojana has been framed into a simple format by the government in order to help a common man who is not earning a very decent income save for his future. The scheme would be beneficial to a large section of the society.