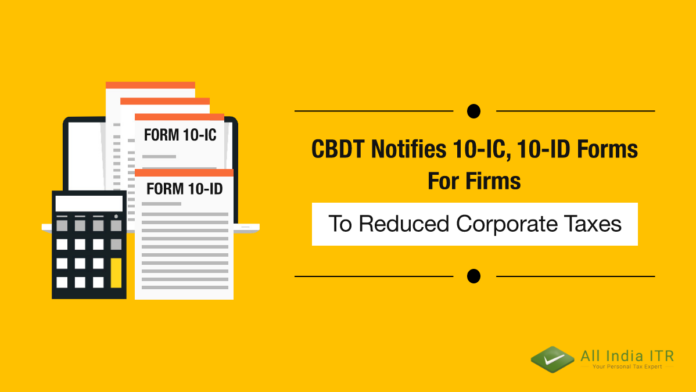 The Central Board of Direct Taxes (CBDT) has notified two new web forms, 10-IC and 10-ID for existing companies that want to avail lower income tax rates and new manufacturing firms, respectively.
In September 2019, the government announced a slash in corporate tax rates for existing companies from the current 30% to 22%; and for new manufacturing firms, incorporated after October 1, 2019, and starting operations before March 31, 2023, to 15% from the existing rate of 25%. Companies that want to opt for these reduced rates will have to give up all previous exemptions and incentives. Therefore, the effective tax rates with consideration of surcharges and cess like Swachh Bharat cess and education cess which are levied over and above income tax and corporate tax, will be 25.17% and 17.01% in comparison to the earlier 34.94% and 29.12% respectively.
Companies that wish to avail the rate of 22% will have to file Form 10-IC after they give up on the tax benefits under the Income Tax Act, 1961. Details such as Company Name, PAN, registered address, incorporation date and nature of business are given in the e-form 10-IC. These companies will be required to declare that they will not withdraw once they have opted for the new rate as they will have to forgo the concessions they claim under the current regime.
In the same manner, Form 10-ID will have to be filed by new domestic manufacturing companies that came into existence after October 1, 2019 and wish to be taxed as per the new rates if they are willing to give up the tax deductions and exemptions they currently enjoy. Form 10-ID asks for the commencement data of manufacturing operations in addition to other general details. The companies will have to declare that are eligible and fulfil the required conditions to avail the concessional rate and will not withdraw from this option.
The companies interested in availing these new corporate tax rates will have till September 30, 2020 to file these e-forms.