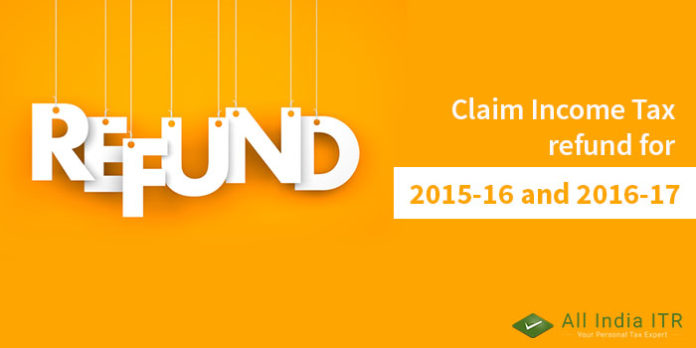 It's that time of the year when an earner can be found looking for answers to his/her doubts related to taxation. One of them is the income tax refund of tax paid from your side.
Download Click Here and use our Android App to file Income Tax Return
Claim Income Tax Refund for 2015-16 and 2016-17
Income Tax Refund is provided to a taxpayer by the Income Tax authorities when his/her tax liability is less than the actual amount paid in taxes.
Download Click Here and use our IOS App to file your Income Tax Return
These days, Income tax department is putting many advertisements in the form of pop-up notifications which give a type of alert message regarding filing your income tax return for the fiscal years 2015-16 and 2016-17 before the last date (31st March 2018).
If you have filed your IT return and have already waited for your refund to arrive – the first thing you can do then is to check your updated refund status. As of now, you can get income tax refund for fiscal years 2015-16 and 2016-17.
To arrive at the correct refund figure, first of all, you should find your tax liability. If you separate this tax liability from the tax that has already been paid, you will know the refund amount you are eligible to get. You can try our income tax calculator which gives you the right amount you need to pay as your tax.
You can also check the status of refund on our Mobile App, available on both Android and iOS platforms.
AllIndiaITR does an amazing job in making it really easy for you. Just type in these basic details:
Got a notice of refund failure?
What to do when you get a notice from the Income-tax Department about refund processing failure? You will need to submit a refund re-issue request and update your information with the correct details. These are the steps to follow:
Log in to the Income-tax website.
Go to 'My Account' and choose 'Service Request'.
Select 'New Request'.
Now click on Refund Reissue.
Choose your Assessment Year, enter CPC Communication Reference Number (please refer to the intimation 143(1) notice from the Income-tax Department) and Refund Sequence Number.
Select the mode of Refund reissue and carefully update your new bank account number.