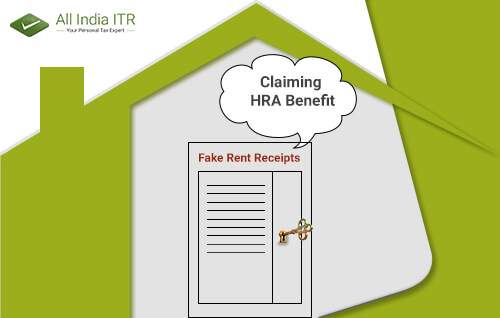 House Rent Allowance is the second largest component of salary that is structured to save on taxes for individuals living in rented accommodation. If the salaried individual has his/her own house and doesn't live in a rented house then HRA is not applicable. To benefit from this tax exemption, many employees are in the habit of submitting fake rent receipts while staying in their own houses.
House Rent Allowance (HRA)
Moving forward, it will not be as easy to claim HRA benefits by just producing rent receipts. Income Tax rules have been tightened to curb the large number of taxpayers producing fake rent receipts.
To change the malpractice of fake rent receipts, the Mumbai Income Tax Appellate Tribunal (ITAT) has ruled that rent receipts will no longer be a conclusive document for approving house rent tax exemptions and income tax officers can now demand further proof before approving claims for HRA deduction.
Deduction on HRA as referred under Section 10 (13A) of IT Act:
HRA received from the employer
Or,
Actual rent paid – 10% of the total salary
Or,
50% of the basic salary if living in a metro location / 40% of the basic salary if living in non-metro location
Read more: Section 80GG to Avail HRA Tax Exemption on Paid House Rent
Scenario till now:
Claiming HRA was the most used method for availing tax deduction. HRA calculator can be used to calculate the amount of deduction one can claim on house rent paid. Salaried employees had to submit rent receipt regardless of the amount, to claim HRA. In the case of rent exceeding INR 1 lakh a year, taxpayers are required to furnish landlord's PAN information. This was imposed to enable the IT department to further verify if landlords were disclosing their earnings from rent received in their tax returns. Also, in 2016, the government had introduced a new form called Form 12BB to standardising the deduction claiming process. Salaried individuals had to furnish their entire deduction claim and other tax saving investments to their employers on this form.
Under the existing phenomena, tax officials considered it a "minor sin" to submit fake rent receipts. However, after the recent ruling by the Mumbai Income Tax Appellate Tribunal, the practice of providing fake rent receipts will not be treated as leniently and granting HRA deductions may be subject to further verification.
The scenario now:
Under the newly imposed rule by ITAT, tax officers monitoring tax deduction claims under HRA can now ask for further proof for verification.
The additional documents that tax officer may ask for are:
Rent agreement in stamp paper between the owner and the tenant
Letter from Housing Co-operative society in regard to the tenant and the owner
Leave & License Agreement
Electricity bill
Water bill
Also, as announced in the recent budget, if an individual pays rent above INR 50,000 a month (or part of the month), TDS at 5% is applicable and to be deducted from rent paid to the landlord. This deducted TDS will have to be submitted to the government.
Read more: TDS Mandatory if Rent Exceeds Fifty Thousand
The new rules of ITAT will definitely make it harder for salaried employees to claim HRA. However, in enforcing stricter rules the Government hopes to terminate the rampant practice of faking receipts to avail tax benefits.