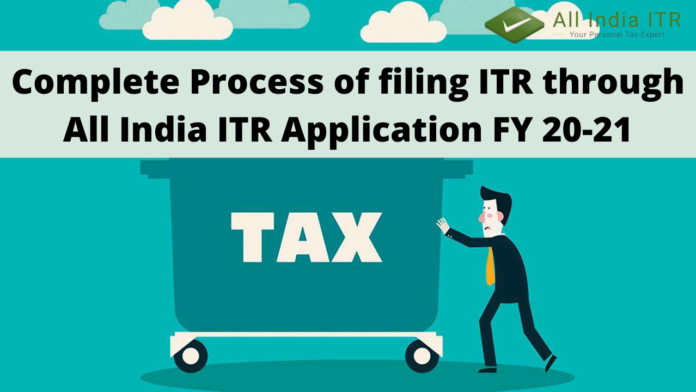 Income tax return (ITR) is the form on which the assessee discloses details about his or her income and tax with the Income Tax Department.
With the due date of belated ITR filing for FY 19-20 with penalty coming to an end with it the new season of filing ITR for FY 20-21 will be starting soon. So, here we are to help you out to file your ITR with the help of tax expert.
All India ITR helps you with easy filing of your return. The main aim of our app is to help you in filing your ITR in a simple and hassle-free manner.
Before filing ITR these are the documents required for the same:
PAN
Aadhaar
Bank account details
Form 16
Investments details
To file your ITR through All India ITR Application you have follow few steps, which are:
Step-1: Download the All-India ITR application from Play store or App store
Step-2: Enter your phone number & Submit the OTP
OTP is the secure one-time password to verify your phone number and we do not use that for any other purpose.
Step-4: Choose your service
To file your income tax with an expert assistant, Click on Start E-Filing.
Step-5: Click on Start New Filing
If you are a new user click on Start New Filing
If you are existing user all you have to do is click on continue filing
Step-6: Choose option as per your Source of Income
Salary/Pension: If you are salaried employee, your salary falls under this head. Your employer must have already deducted the TDS as per your income tax slab. So, don't forget your Form 16.
House Property: It is essential to know that the tax here is derived from the land or property and not from how much rent you earn from the same.
Business/profession: Any kind of income that you obtain from trade, manufacture, commerce, or profession is chargeable under the business income head.
Capital Gains: Any gains or profits that you earn by transferring or selling capital assets which were held as investments are considered as capital gains.
Other Sources: Any kind of income which cannot be categorised under the heads listed above will fall under this income head.
Foreign Income: The income earned anywhere in the world by the India resident is taxable in India as per the income tax regime.
Step-7: Fill your personal details and continue.
If already registered, click on continue filing.
And if you are filing return of income under seventh provision to section 139(1) don't forget to click on the option and fill the required details.
Step-8: Upload Form 16
Form 16 is an Income Tax form issued under section 203 of the IT Act for Tax Deducted at Source from an employee's salary. Form 16 contains a detailed record of every tax deducted from the salary of the employee by the employer.

Step-9: Add your important details
For Example:
Father's Name as per PAN card
Aadhar card number/Enrollment ID
Your current Address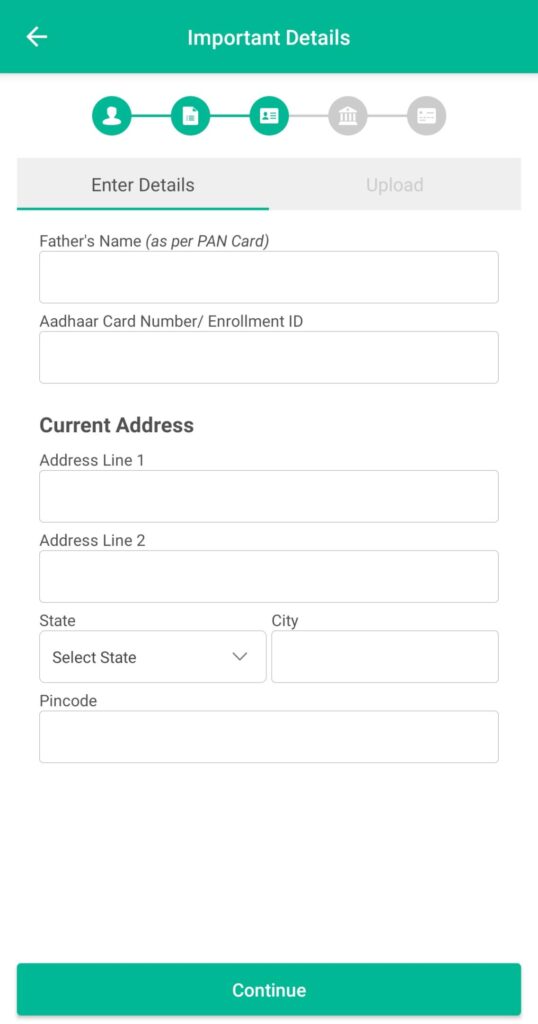 Step-10: Enter your Bank Details
You need to provide your bank details to claim the refund if any, as it will be credited by the IT department on the same account.
Step-11: Upload any other information and select the option Skip/Submit.
Here you need to upload documents such as, Rent receipts, insurance, loan, FD interest – Deductions under Chapter VI.
Step-12: After completing the steps/process, you will receive your order details where you can choose any option as per your requirement:
CA assistant – All India ITR provides you an expert CA assistance to help you filing your ITR
PAN-Aadhar link + e-verification of ITR – Filing + e verification
Step-13: You are one step away to execute your order, choose the payment mode.
Step-14: ORDER PLACED

After making a successful payment, your order will be placed and below image will be displayed on your mobile screen.
Step – 15: All you need to do now is sit back, our tax expert is calling you to help you with filing your return.
Step- 16: Congratulations on successful filing of your return. You must have received an acknowledgement number in your mail id after filing your ITR.
(Note: This is not the end of your process, you also have to e-verify to complete the process.)
Refer and Earn
For more query visit All India ITR