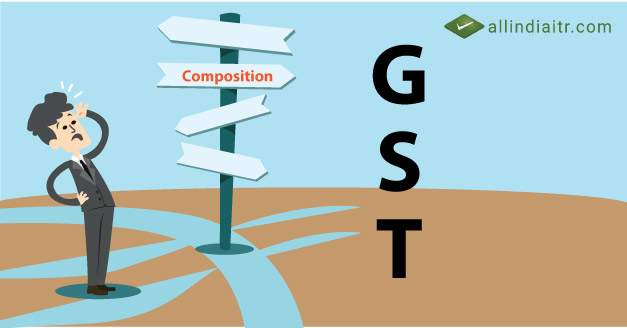 Small businesses are often hard pressed to manage daily cash flows leaving aside indirect tax compliances for goods they buy or sell. Simply put, the GST in India is a tax levied at the point of destination rather than at the point of origin. It becomes applicable every time value is added to either a good or a service. The person who pays the most tax under this regime is the one performing the final consumption.Composition Tax and compliance for small businesses.
In a set of FAQs to ease the spirit of protesting traders and small businessmen, the CBEC has stated that this class stands to benefit under the Input Tax Credit system. This is because whereas earlier indirect taxes used to be borne by the retailer, now that burden would fall upon the consuming member of the public.
Who is Eligible to Opt for Composition Tax?
Small traders who earn less than Rupees 20 lakh annually as turnover are offered the relief of not requiring to register themselves under the GST. Then there is the Composition scheme of tax payment where a commercial entity that obtains gross annual receipts of less than Rupees 75 lakh (or Rupees 50 lakh a year in Arunachal Pradesh, Assam, Manipur, Mizoram, Nagaland, Meghalaya, Tripura, Sikkim, Uttarakhand and Himachal Pradesh) gets to pay tax at a flat rate as specified in the table below:
| | | |
| --- | --- | --- |
| S. No. | Category of Registered person | Rate of Tax |
| 1 | Manufacturers, other than manufacturers of such goods as may be notified by the Government (Ice cream, Pan Masala, Tobbacco prodcuts etc.) | 2% ( 1% Central tax plus 1% State tax) of the turnover |
| 2 | Restaurant Services | 5% ( 2.5% Central tax plus 2.5% SGST) of the turnover |
| 3 | Traders or any other supplier eligible for composition levy | 1% ( 0.5% Central tax plus 0.5% State tax) of the turnover |
Note that there some sub categories within the specified class that are NOT eligible for benefits of taxation under the Composition Tax Scheme.
These include:
individual resident or non-resident taxpayers,
goods providers of items not subject to the GST, firms selling goods outside one's state (no inter-state commerce),
suppliers of ice cream and other humanly consumable forms of ice, tobacco, pan masala and their substitutes,
those who source goods from unregistered suppliers lower down the chain and
those whose annual receipts in the immediately preceding fiscal year exceeded Rupees 75 lakh.
Intimation for withdrawal
The CBEC has clarified that businessmen who obtain their supplies from outside their state need not necessarily opt out of the Composition Tax scheme. Further, a business stands disqualified from the Composition benefits the day, the receipts for the year go beyond Rupees 75 lakh. It is mandatory to alert tax authorities about such a development using the form GST CMP-04 within a week of its occurrence.
Disadvantages:
The big disadvantage of opting for tax assessment under the Composition scheme is that the business owner can no longer avail Input Tax Credit. Input Tax credit is a kind of refund to a supplier for taxes that she has paid to her own source of input supplies before she adds value to her good or service.
Also, a tax assessee purchasing from the supplier mentioned in the previous line cannot claim input tax credit on his purchase.
Advantages:
Retailers or traders under Composition are not required to invoice their sales under the GST. An ordinary receipt of supply, however, can be provided.
Composition Tax assessees need only file quarterly income tax returns on the GSTN online platform by the 18th of the month in which made.
Getting On-board Composition
Whenever, a business opts to be taxed under Composition, forms GST CMP-01 or GST CMP-02 must be used to communicate acceptance before the beginning of the intended financial year. This can also be performed by a fresh registrant using form GST REG-01.
Further, within the next 60 days, the trader must submit accounts of stocks and supplies to tax authorities via form GST CMP-03 complete to the day prior to submission.
For a prior registered person under the GST, who wants to claim Input Tax Credit, stocks of semi-finished and finished goods will have to be taken into consideration to calculate the value of ITC.
You do not need to understand every bit of technical jargon thrown at you to complete your tax compliance and returns under this scheme. We at AllIndiaITR ( a product of Corwhite Solutions Private Limited) offer services at par with the best in the industry at the most competitive rates you'll ever find. We welcome you to take a look at the broad range of services we provide here.