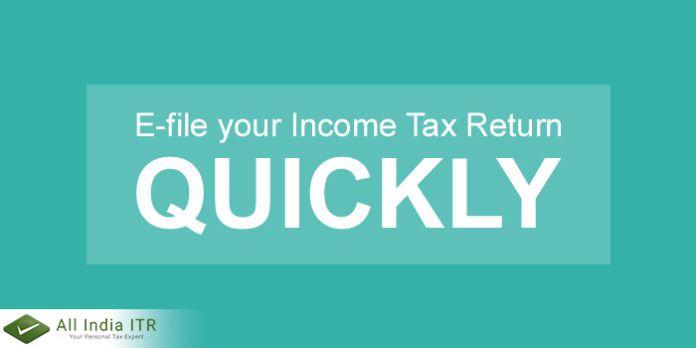 Tax filing season is here and the last date to e-file Income Tax Return is 31st July 2018. It is important for every individual who have income to pay Income Tax. Income. Filing Income Tax Return can be a tough task, here are some steps that will help you to file your ITR quickly: –
E-file your Income Tax Return quickly
Before you start the e-filing process, you must have a basic awareness about the certain Income Tax related terms like Assessment Year, Financial Year, Deduction, HRA, Exemption. You must also know about the various tax laws and rules that are applicable for the relevant Assessment Year. You should also keep a tab on the tax slabs and which one is applicable for you.Download Click Here and use our Android App to file Income Tax Return
Apart from this, another thing that you should know is, your eligibility for the ITR Form. You must know, which ITR Form you should file. All in all there are 7 ITR forms, which a taxpayer can use to file his/her Income Tax Return. You are required to know the changes that are incorporated in the ITR Form that you are going to file in the relevant financial year.Download Click Here and use our IOS App to file your Income Tax Return
If you are salaried employee, you must ask your employer to provide you Form 16 in case you haven't received it already. You can verify you TDS amount from your Form 26AS, that you can download Form 26AS from the Income Tax Department's official website.Filing Income Tax Return
In case you have made any investment in a particular financial year then you can claim deduction under section 80 depending on the type of investment. Generally, a taxpayer can claim deductions under section 80C, 80D, 80E, 80EE, 80CCC, 80TTA, 80U.
Last but not the least, the most important thing that you need to keep in mind while filing Income Tax Return is, you must report your income correctly. Misreporting of your income can attract a tax notice towards you.
All India ITR Login | Start Filing Income Tax Return