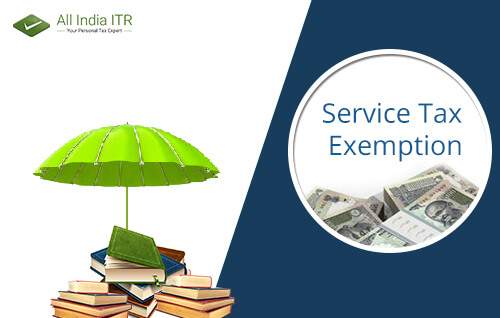 Service tax exemption is levied by the Government of India on certain service providers for certain services and it is collected by the service provider who later submits it to the Government. It is a type of indirect tax that a service receiver pays for receiving those services. However, there are few services who are exempted from service tax rate charges and they are listed in the negative list. Some services provided by educational institutions were listed under this negative list according to the negative list regime introduced in 2012. Some Complications And Myths Coming On The Way Of GST Transition.
Service Tax Exemption For Educational Institutions
These listed services include:
Pre-school education
Education up to higher secondary or equivalent
Approved vocational educational courses
Any part of a qualification recognized by the law for the specific time being.
However, service tax exemption for these services was omitted from the negative list according to the amendments introduced by Finance Act 2016. However, these services were still exempted due to the Entry No 9 of Mega Exemption Notification No. 25/2012.
Following are the services exempted from service tax rate charges according to Entry No 9:
Service provided "by" an EDUCATIONAL INSTITUTION to Students, Staff, and Faculty.
Service provided "to" an EDUCATIONAL INSTITUTION, by any person in the way of:
transportation of Students, Staff, and Faculty
catering, including Government-sponsored mid-day meal scheme
security or housekeeping or cleaning services
any admission services or conducting examination
These services are exempted from service tax liability only for the specified institutions defined earlier in this article. However, some amendments were introduced with Service Tax Notification No. 10/2017-Service Tax released on 8th March 2017 which has omitted the vocational institutions from the defined institution list. This notification also introduced some other clarification in the service tax rate information for the educational institutions.
The new amendments are:
Transportation/ Catering/ Security/ cleaning/ Admission or conducting Examination provided to any institution providing education beyond higher secondary level will be taxed.
Some of the services that are restricted to pre-school and up to higher secondary education will be service tax exempted for other educational institution due to the Negative List Entries or Mega Exemption Notification.
Service Tax Exemption For Educational Institutions
This changes will be effective from 1st April 2017 until GST release in full force with omitting all the indirect taxes. There are Some Changes Made in Service Tax Policy in Budget 2017. However, it is expected that the private educational service providers will not be exempted under the GST regime. Till then, this service tax rate notification will be effective from the above-mentioned date.