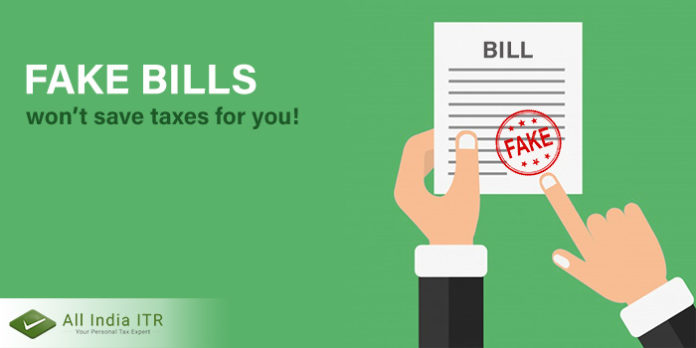 31st March is just around the corner and you would do anything to save the maximum amount of tax. This is that time of the year when you receive a lot of calls from your HR Department. However, you may be in the constant pressure of submitting bills, but make sure you only submit your real bills, as submitting fake bills can end in a notice of under-reporting of Income.Fake Bills won't save taxes for you.
Fake Bills won't save taxes for you
Many companies provide reimbursement to their employees for a few expenditures. In order to claim these reimbursements and lower their tax liability, the employees are supposed to provide bills as the proof of expenditure. The reimbursements are available for the medical expenditure, travel tickets of air or by train, only if you have the documentary proof of it. Other than these reimbursements, employees can provide rent receipts to claim tax exemption on house rent allowance (HRA) and to lower the TDS deduction.
Those who don't have the real bills of the above-mentioned expenses must be tempted to submit fake bills and get reimbursements. Well, that's not a great idea as Income Tax Department will catch you red-handed if you try to furnish fake bills.
How will IT Department Catch you?
There are basically three ways by which, the IT Department can catch hold of you, if you furnish fake bills and they are as follows: –
If the ITR of that individual is selected for scrutiny and supporting evidence cannot be provided by the individual to substantiate his claims, then the Department will send a notice and the taxpayer will have to answer it.
If the Department asks the employer to furnish supporting evidence for tax deducted at source (TDS) calculated under Section 192 and bills submitted by the employees are not found to be genuine.
If the tax department gets some information through search or survey indicating that the employee has claimed a deduction on the basis of false bills.
You must know that Income Tax Department keeps a tab on all your financial transactions, as banks are supposed to intimate the IT Department about all the high-value transactions.
Fake Bills won't save taxes for you
If an employee submits fake bills to claim exemptions to lower the tax liability, then this amounts to a case of misreporting of income to lower the tax liability. In such a case the assessing officer may start a scrutiny case against the individual and then it is up to the taxpayer to prove that the bills are genuine.