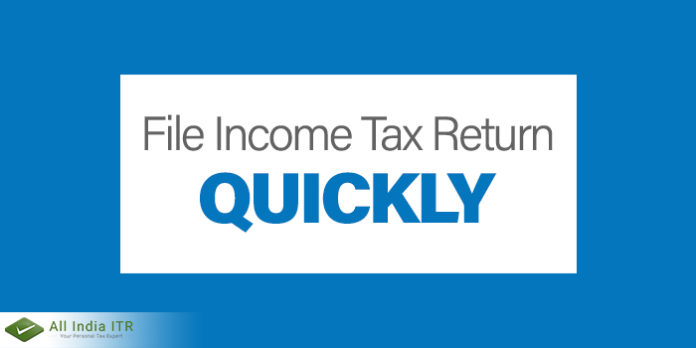 Filing Income Tax Return can be a tough task and the last date to file ITR is 31st July 2018. That's the reason why we will tell you how you can file your ITR in a few simple steps.
Here are the steps that you must follow in order to file your ITR without hassle: –
Download Click Here and use our Android App to file ITR
If you are filing your Income Tax Return for the first time, then you are supposed to register yourself first on the Income Tax Department's official e-filing portal.
Your PAN number will be the user ID of your registered account. While filing your Income Tax Return you must keep documents like your PAN Card, Aadhaar Card, Form 16, Form 26AS etc handy.
Then you will have to go to the downloads tab in order to download ITR preparation software for the relevant assessment year.
You can prepare your Income Tax Return by using the application that you have downloaded.
Make sure you don't leave out any detail, put in all the data and then click on calculate to compute the tax and interest liability along with final amount of refund or tax payable.
If there is any tax that is due, then, in that case, you will have to enter the details in the appropriate schedule.
After this you will have to repeat the step that is mentioned above so that your tax payable becomes zero. Once all the details are incorrect place an order, you can save and generate the ITR data in XML format.
Then Login to the Income Tax Department's official e-filing portal, click on e-file option and then click on the upload return option.
You are required to upload DSC or Digital Signature Certificate, if you have one, which is registered with the e-filing portal and then click on the submit button.
Once you file your Income Tax Return you will have to verify it, you can either verify your ITR electronically or by sending your ITR-V to CPC Bangalore by post. You are required to verify your ITR within 120days from the day of filing your ITR.
All India ITR Login | Start Filing ITR