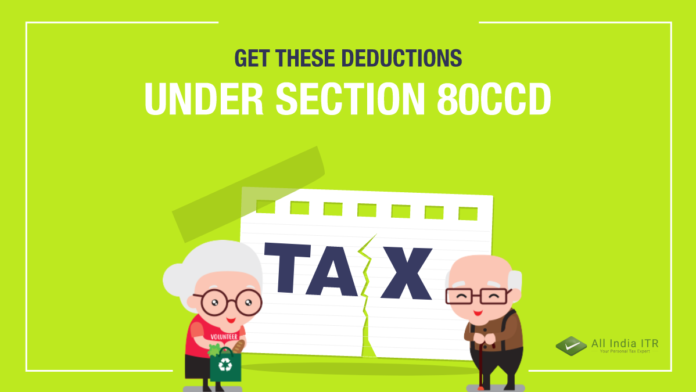 The government has made several provisions in the Income Tax Act, 1961 for the benefit of taxpayers so that they can avail certain deductions against investments in specific avenues. One of the most-used sections for deductions is Section 80CCD.
A taxpayer can utilise the deductions under Section 80CCD against the contributions made to the National Pension Scheme (NPS) or the Atal Pension Yojana (APY). Employer contribution towards the NPS are also included under this section. NPS is a notified pension scheme from the Central Government.
The National Pension Scheme was introduced by the Central Government to benefit Indians with an organized pension scheme. This scheme was initially executed for government employees only but the benefits were later extended to private sector employees and self-employed individuals. The purpose of NPS is to push people to create a retirement nest from which they will receive a monthly payout post-retirement.
Section 80CCD is divided into two sections for more clarity on the circumstances in which the deductions are available for taxpayers.
Section 80CCD (1)
This subsection states the rules for the income tax deduction available to taxpayers for their contributions made to the NPS. The nature of the employment i.e. government, private or self-employment is irrelevant as this scheme extends to all manner of Indian citizens contributing to NPS and are between the age of 18-60 years. This deduction can also be availed by NRIs.
Key Provisions of Section 80CCD (1)
The maximum deduction allowed under this section is 10% of the salary (Basic + DA) or 10% of the gross income of the individual.
From FY 2017-18, this limit has been increased for the self-employed individuals to 20% of the gross total income with the maximum limit being capped at Rs 1,50,000 for a particular financial year.
An amendment was introduced to Section 80CCD in the Union Budget 2015 as sub-section 1B. As per the new amendment, taxpayers can claim a further deduction of Rs. 50,000 raising the maximum deduction under Section 80CCD to Rs 2,00,000. This is available to both salaried as well as self-employed individuals. These tax benefits under Section 80CCD (1B) can be claimed over and above the deductions available under Section 80CCD (1).
Section 80CCD (2)
The provisions under Section 80 CCD (2) come into effect on employer contribution to NPS of an employee. An employer can make contributions towards NPS in addition to contributions to PPF and EPF. The employer contribution can be equal to or more than the employee contribution. This section applies to only salaried individuals only. The deductions under this Section can be availed over and above those of Section 80CCD (1).
Section 80CCD (2) allows salaried individuals to claim deductions up to 10% of their salary which includes the basic pay and dearness allowance or is equal to the employer contribution to NPS.
Key Points to Remember
Deductions under Section 80CCD can be availed by salaried and self-employed individuals. This is mandatory for government employees although other individuals can choose not to opt for it.
The maximum deduction available under Section 80 CCD is Rs 2 lakhs including the additional deduction of Rs 50,000 under sub-section 1B.
Tax benefits availed under Section 80CCD cannot be claimed again under Section 80C. This means that the combined deduction under Section 80C and 80CCD cannot exceed Rs 2 lakh.
The money received from NPS as monthly payments or as surrendered accounts will be liable for taxation according to the applicable provisions.
Any amount received from NPS, which is reinvested in the annuity plan is entirely exempt from taxation.
Taxpayers can claim deductions under Section 80CCD when they file income tax returns. Individuals will be required to produce a proof of payment to the Income Tax department for eligibility to avail these deductions.
Download our ITR e-filing Android mobile application from here.