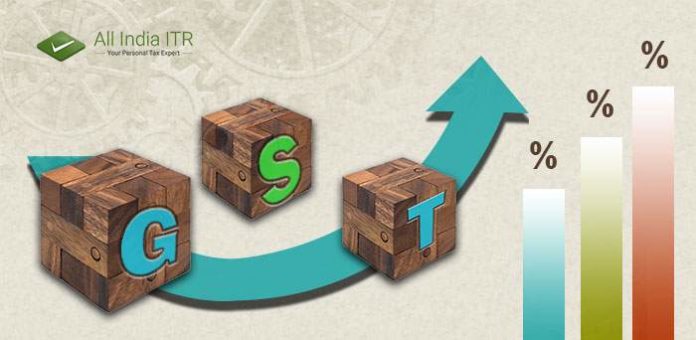 Goods and Services Tax is going to bring about an economic revolution in the country. Finance Minister Arun Jaitley along with GST Council has finalized the four slab tax structure for goods and services in the country. Mr. Jaitley is confident that GST will not be inflationary and the rates will ease tax burden on common man as they are lower than existing rates in the market. Different slabs of GST Slabs range from 5 percent to 28 percent.
Four slabs of GST Slabs
The four slabs of GST has been set at 5%, 12%, 18% and 28% for different goods and services. The government had earlier provided rates of 6%, 12%, 18% and 26%. Food items and other essential items have been kept at zero rates to keep inflation under control. Commonly used items will be taxed at 5% while luxury items such as luxury cars, aerated drinks are kept at peak rate of 28% along with an additional cost. This additional cost and another clean energy cess will create revenue for the government which will be used to compensate states for loss of revenue during the implementation of Goods and Services Tax.
Basic food stuffs like wheat, rice, milk will be exempted from GST. Manufactured goods will be levied with 18% tax. Almost 81% of goods will be included in the first three brackets of taxes, that is, lower than 18%. 28% tax slab will cover only 19% of items. 50% of items in retail will not be taxed to keep prices and inflation low.
Also, there was an announcement pertaining to taxation of tobacco products that will be taxed at 65%. Products like soap, hair oil, toothpaste etc. Will be taxed at 18% while currently it is been taxed at 28%. Indian sweets will be charged with 5% tax.
Many States are trying to keep state-specific items out of the list. Uttar Pradesh is trying to keep puja items out of the tax structure whereas other states are lobbying to keep cotton yarn and silk yarn out of the tax bracket.
An additional GST Slabs tax is expected to be implemented for precious metals like gold that are currently charged with only 1% VAT.
For Standard Goods and Services, here are two slabs of GST; 12% and 18%. Majority of taxpayers fall under the category of Standard Goods and Services. For special category of Goods and Services, a tax of 28% will be levied.
Exempted items
As per the government, almost 50% of commonly used items such as food grains are excluded from GST. Education, healthcare and railway travel will also be exempted from GST. Goods transportation and cab aggregates will be charged with 5% GST Slabs. Hotels and restaurants that use transportation services will attract different taxes. Five star hotels, horse race betting and cinema will be charged with the oak rate of 28%. For Telecom and Financial Services will be charged with 18% tax, as earlier. People belonging to the income slab of Rs. 2.5-2 lakh will be charged with 5% tax.
While different rates have been set for different items, it is only a few days before we see how it impacts citizens of the country.