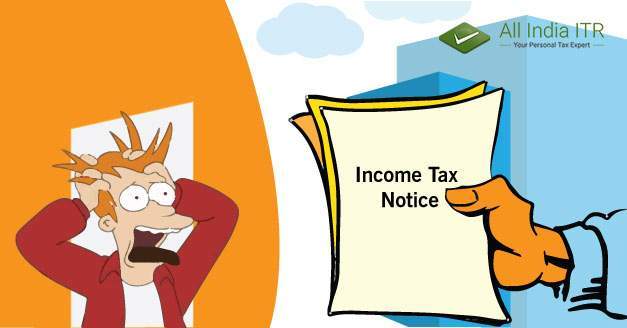 Getting income tax notice is a harrowing experience for most of taxpayers. But you don't need to panic as there could be various reasons for it. What you need to do is to find reasons and take remedial measures. But before you proceed further know what an income tax notice is?
What is a tax notice?
A tax notice is an intimation sent by the Income Tax Department through mail to the taxpayer's address. Sometimes the notices are sent through email to the assessee's email address. Central Processing Centre (CPC) processes the e-returns. You can receive a tax notice for various reasons, some alarming, and some merely informing.
After demonetization in the country, many tried to hide their income by purchasing high value assets and depositing high value amount in the banks. The government noticed 18 lakh such taxpayers and sent a notice to them for scrutiny.
Why could you receive a tax notice?
We have listed below some reasons for which you could receive a tax notice:
1. You haven't filed your tax returns
If you have not filed your income tax returns for a few years now, then you could receive a notice from the IT Department intimating about the same.
2. Unexpected fall in Income
If your income is suddenly much lower than that of last year, the IT department may like to review some of your documents. The department will first send a notice for you to explain the income drop. However, such problems mainly occur with businesses and not with salaried individuals.
3. Non Declaration of Exempted Income
If you have not declared any additional income or any exempted income in your tax return, the IT Department will send you a notice to do so and may further like to check your documents.
4. High Value Transactions
You will attract notice from the Income Tax Department if you carry out a high value transaction. High value transactions include deposits of more than 10 lakh rupees in a financial year, purchase of any immovable property worth more than 30 lakhs, purchase of gold exceeding 1 lakh, etc. You will be required to report such transactions to the Income Tax Department with detailed information about the same.
5. High value deposits
If you have deposited high value cash in your bank accounts after demonetization, you must have already received a notice from the IT Department. The government scrutinizes every suspicious transaction and thus all sudden high value deposits are under scrutiny.
What to do when you receive a tax notice?
Most of us panic when we receive a notice from the tax department without even reading the notice carefully. Consider doing the following when you receive a tax notice:
1. Keep calm and read it very carefully – The first thing to do when you receive a tax notice is to keep calm and read the notice carefully. Check your PAN details very carefully to make sure it is issued for you and not someone sharing your name. Check the department details and document identification number to make sure it is a genuine tax notice.
2. Check the type of notice – You can receive a notice for various reasons. Some may be as simple as mismatch in TDS or taxes not filed by you for a few years and some big such as high value transactions carried out by you or non-disclosure of income and assets.
3. Consult a professional – If the notice is too complicated for you to understand, consult a professional. You may consult a taxation expert or a CA for the same. The expert can explain you about the issue and suggest a proper solution to it.
4. Prepare and copy documents – Prepare documents that are required by the Income Tax Department for scrutiny and make sure you make a copy of both, your documents and the notice.
5. Reply within time – Always check the validity of the notice and respond within the validity. If you need any more time, write it to the department and make a copy of the same. If you are not sure, whether you can ask for more time, consult your expert.
Tips to keep in mind:
1. Do not ignore the notice: Never ignore a notice, especially when it is from the Income Tax Department. Ignoring the notice can lead to heavy penalty and sometimes imprisonment.
2. Check it carefully: Check the details like your PAN and address to make sure it is for you. Also, make sure it is genuine. Check the document identification number.
The Income Tax Department will never ask you for your personal information such as your PIN, PAN, address, etc.
3. Acknowledge it: The next step is to read it very carefully, know the main purpose of the notice. If the notice looks too complicated to you, consult a professional accountant or taxation expert. Respond to the IT Department that you have received the notice.
4. Respond within the stipulated time: After checking the details and reasons as to why the notice arrived, prepare to respond. Prepare the documents required and take proofs of the notice and all the documents you are attaching. Also, take a copy of the letter that you may be drafting. Also, make sure you respond within the stipulated time to avoid any further hassle.
Getting a tax notice could be intimidating but handling the situation calmly and cooperating with the IT Department will help you get out of it easily.