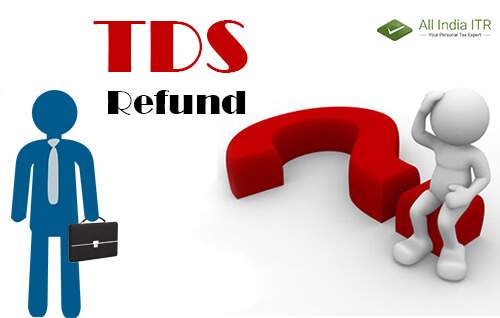 Employers deduct Claim TDS from employee's salary and deposit it to the tax authorities against employee's PAN. But there are many cases when employers deduct the amount from employee's salary but don't deposit it to the IT Department. In such cases, employees turn out to be the sole loser and face trouble in getting their rightful refunds. Even some wait for years to get their refund back due to this malpractice. However, Central Board of Direct Taxes (CBDT) is more vigilant on this year long malpractice tradition and has announced that any company that does not comply with the rules will have to pay a heavy penalty.
Claim TDS if not deposited by the Employer
How to find out if your employer is depositing the deducted Claim TDS or not:
If TDS has been deducted from your salary and deposited to the Government by your employer then you must be able to see it on your Form 26AS. You can access Form 26AS online from the government's website.
Log into your e-filing portal and click on the "View Form 26AS" link located at the left-hand corner of the page.
You will be soon redirected to TRACES website where you need to click on the "view Tax Credit (Form 16)" option.
Select the assessment year, and select the file format from PDF or HTML or Text.
Click on "Download" button and it will start downloading the form.
In the downloaded Form 26AS, go to Part-A section which will have the details of deposited TDS made by your employer.
Cross check the details with your Form 16 details.
It is advisable that you keep checking your Form 26AS online in every quarter of the year to stay informed about if your employer is submitting the collected TDS or not.
Claim TDS if not deposited by the Employer
How employees can claim refunds in case of non-deposit of Claim TDS by the employer:
If your employer has been deducting TDS from your salary and not depositing it then, you must do the followings:
Keep your salary slip, Form 16 and Form 16A safely as a proof.
Write a detailed clarification of this matter to Assessing Officer.
If you receive any demand notice then raise a rectification request against that.
In case, if you have not received your Form 16 from your employer, you can file income tax returns with referring your salary slips. Salary slip must have the information of TDS deducted from your salary. E-filing income tax return on the basis of salary slip will let you claim your rightful refunds. You do not need to worry if your employer is not submitting the collected taxes as the only thing requires from your employer is your Form 16 or salary slips. There is no specific form to file TDS refund claim but you can claim it during e-filing income tax returns.
Government's step to awake the employers with timely TDS filing:
TDS or Tax Deduction at Source is a tax collection method, in which employer deducts a fixed percentage of amount from employee's salary and deposit it to the income tax department. It is deductor's duty to submit the collected TDS to Government and failing to do so can draw a heavy penalty on them. Recently, CBDT has announced penalty charges on those company who miss submitting the collected TDS. The charges will vary between a ranges from INR 200 to INR 1 Lakh. All the TDS range officer has been instructed to keep a track on such companies who misses TDS filing duty.
As per the new announcement, all employer regardless of government or private has to pay a penalty of INR 200 per day for non-filing TDS/TCS return. In the same way, employers will be penalised from INR 10,000 to INR 1 lakh for furnishing wrong information or non-filing of collection statement by the due date. The Assessing Officers will use the Section 234E and 271H to make sure that no company or organisation is not delaying in filing TDS/TCS return.
Penalty provision for employers not submitting collected TDS:
The government has made enough provisions to punish the defaulters and recover the amount along with applicable interest from them. As per Section 201 and 201(A), IT department has full right to demand the non-deposited TDS amount from the defaulters along with an interest charge at a rate of 1% per month. The defaulters can be even prosecuted for a rigorous imprisonment of 3 months which is extendable up to 7 years. In case your employer is not submitting the collectedto Claim TDS, your responsibility is to inform the Assessing officer in written about this matter.