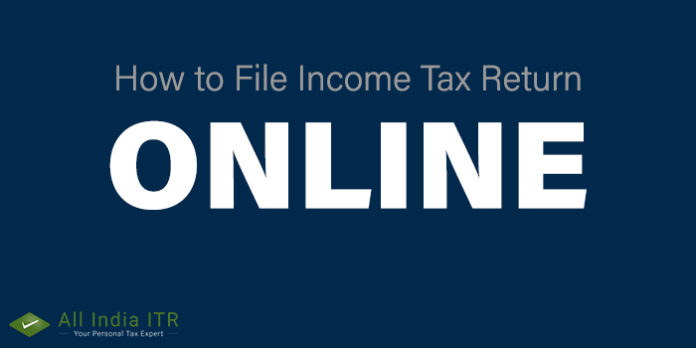 With Income Tax season around the corner, you must be wondering how to file your Income Tax Return without making mistakes. Filing you Income Tax Return is not that tedious as it sounds, here are the easy steps that you can follow to file your Income Tax Return Online: –
Income tax Refund Android App Click Here
Income Tax Refund APP IOS APP Click HERE…
File Income Tax Return Online
Before you start filing your Income Tax Return Online, you must keep all the required documents in place, the documents which you would require are: –
PAN
Aadhaar
Bank account details
Form 16
Investments details
Then you will have to Login to the Official Government E-filing Portal and upload the PDF File of your Form 16. In case you do not have Form 16 in PDF Format then you will have to follow these steps: –

File Income Tax Return Online

income tax return online
Firstly, you will have to fill your personal details that includes your Name, PAN, Date of Birth and Bank account details.
Then you will have fill your Salary details that include, salary, employer details (Name and TAN) and TDS.
You will have to enter the details of your Investment under Section 80C. You can also mention the deduction that you have claimed under section 80C.
If you have any non-salary income, then you will have to have to mention it while you are filing your Income Tax Return online. You can also mention your income details from other sources in your Firm 26AS.
After this you will have to click on the submit button and then proceed to E-file your Income Tax Return online.
Once you are Income Tax Return is filed you will have to E- verify you Income Tax Return within 120 days of Filing your ITR. You can either download the copy of your ITR and send it to CPC Bangalore, by post or you can E- verify your Income Tax Return. Remember, if you fail to do so, your Income Tax Return will be considered Invalid.