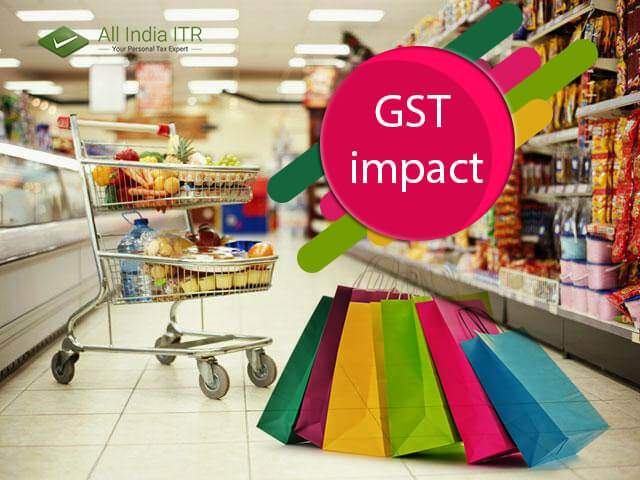 Retail sector is an integral part of India's economic system. It is one of the booming sectors, which works across all kind of industries. Retail sector is responsible for providing goods and services in an effective way to consumers.  Therefore, its positioning in the present system needs to be understood in the light of GST, which will not only open up a gateway for potential markets to grow but also for existing retailers to grab benefit from it.
Enlistment of benefits in Retail sector after GST:
Hitherto known tax structure imposed various kinds of excise duties/taxes on almost all kind of goods and services. The new tax regime is effectively calculated to prove beneficial in a seemingly long run of business. The very fact that a long list of taxes will be replaced by a single tax to promote the idea of 'One Tax, One Market, One Nation', demonstrates that a call for change in the taxation policy will incur benefits for all. This proclamation seems to set the taxation rightly, in case the effective takeaway from Goods and Services Tax (GST) turns out to be positive. The four major ways in which Retail sector would be impacted are-
(a) Increase in Circulation and outreach of all the goods and services.  This is primarily because taxes levied on crossing of the state boundaries would be non-effective post-GST.
(b) Cascading of taxes would turn irrelevant in such a taxation scenario. All the indirect forms of taxes would be reduced to zero value. One tax call for the whole country would surely prove to be a transformation in the economic view.
(c) There would be an increment in the supply chain management. The effectiveness of the retail activity would work on a smooth and effective path after the introduction of GST.
(d) Above everything else, GST will facilitate unified input tax credit. The design of the supply chains will be reworked so that maximum benefit is to be taken from the taxation process by availing tax credits. The supply chain network will also witness a reformation given the fact that there will be a lot more opportunities for cost saving in tune of 1%-1.15% of sales.
Retail business- Pre-GST and Post-GST:
Retail business is the backbone of the Indian economy and accounts for about 10 percent of its GDP. The Indian retail market is estimated to be US$ 600 billon and one of the top five retail markets in the world by economic value. India is one of the fastest growing retail markets in the world, with 1.2 billion people. Given such a growth rate in international business, it is of utmost importance to bring new changes in the sector for propagating its growth and outreach. Analysis of both the sides will help us weigh the benefits of GST implementation. The drafted GST model law, GST rules and its documentation reflects measures taken by Government to make people GST ready.
In the Pre-GST phase, retailers were entitled to 30% indirect taxes such as Value-Added Tax(VAT), Central State Tax(CST), excise duty, service tax on warehousing, intra-state, inter-state, and more. But now in the post-GST phase, everything getting replaced by a single tax marks a radical move. On the face of it, it might take retailers a little time to understand the technicality which goes into making of such a set-up. But ultimately, the retail business will reach a new height. From storage to supply chain to distribution to promotions to everything else which combines in the process of retail business will be affected by GST. The flow from supplier's end to consumer's end will work in transparency. Remodeling of each and every strategy is the effective need of the hour. The complexity in the retail business will not be visible anymore if the business is carried on under registration act of GST. The proper tax filing is of high importance in all of it. Free-flow of goods across the nation is set to come into effect. The tax burden on retailers will lessen as we would see how a simplified tax structure will be brought into effect. The cost saved on maintenance of warehouses in different states will initially reduce the input value, which used in making of it available. Thus, all in all, post-GST regime seeks to assert an effective and efficient channel for retail business. It propagates better opportunities for growth not just for surviving segments and industries but also for new retail business aspirants.