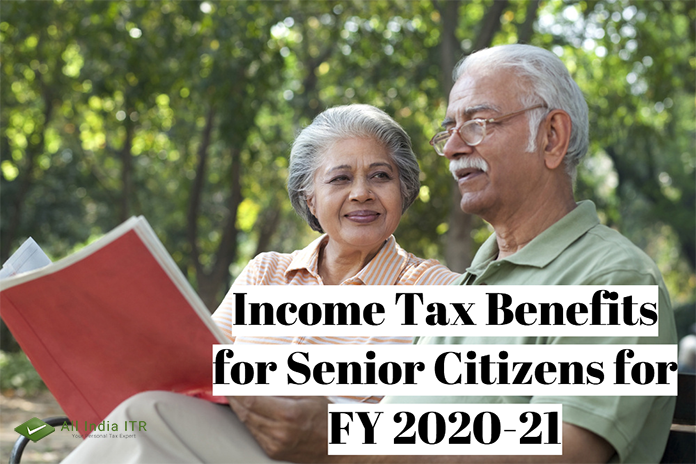 The Income Tax Department of India provides certain tax benefits to the senior citizens of the country which fall under the age group of 60-80 years. Citizens above 80 years of age receive tax benefits under Section 80C of the Income Tax Act. As per the Income Tax Act, resident senior and very senior citizens of the country get tax benefits which range from higher exemption limits to deductions.
An individual whose income is above the tax-free limit or who has earned pay from which the tax was deducted in form of TDS (Tax Deducted at Source) has to file their Income Tax Return (ITR). However, the senior citizens and very poor citizens get additional tax benefits as compared to individuals under the age of 60.
Tax Benefits for Senior Citizens for FY 2020-21
Given below is a list of the tax benefits for Senior and Super Senior Citizens for the financial year 2020-21:
Tax exemption threshold
A higher tax exemption threshold is provided to the senior citizens and citizens above 80 years as compared to ordinary taxpayers. For FY 2020-21, senior citizens and super senior citizens have been provided with an exemption of Rs 3 Lakh and Rs 5 Lakh respectively whereas citizens under the age of 60 years have been provided with an exemption of Rs 2.5 Lakh. Talking about the extra benefits, a resident senior citizen gets extra benefits in the form of Rs. 50,000.
Advance Tax Deduction
Senior and Very Senior citizens get an exemption from payment of advance tax, according to Section 207. As per section 208 of the Income Tax Act, an individual having a tax liability of Rs 10,000 or more than that is advised to pay the tax under the section "Advance Tax". A resident senior citizen with no income from business or any profession does not have to pay Advance Tax.
Offline mode of ITR filing
As Super Senior Citizens are not that tech-savvy, they can now file their ITR offline which means that there is no need to e-file the ITR in Form ITR1 or ITR4. However, if they are comfortable in filing their ITR online, they can go for e-filing.
Tax exemption benefits for interests earned on bank deposits
Senior citizens are eligible for tax deduction under Section 80TTB of the Income Tax Act for interests earned on fixed and saving deposits with banks, post offices, and co-operative banks for an amount up to Rs 50,000. It is mandatory for every bank to assess the threshold of Rs 50,000.
Tax exemption for paying an insurance premium
According to the rule of Income Tax, senior citizens are allowed to claim a medical insurance premium paid up to Rs 50,000 annually as a deduction under Section 80D of the I-T act. If in case, a senior citizen is also paying the medical insurance premium for their parents also fall into the category of senior citizens, then they are eligible for an additional deduction of an amount up to Rs 50,000 i.e., they become eligible for a deduction of Rs 1 Lakh.
Tax exemption benefits on medical services
According to Section 80DDB of the Income Tax Act, Senior citizens can claim a tax deduction of Rs 1 Lakh for expenditure incurred on medical care.