Globalization is achieving new heights in today's time. A lot of people come to India to expand the reach of their business and some come for various projects assigned by their companies overseas or by organizations in India as well. If you are a person who is not domiciled in India, but are earning any income here, you are required to collect an Income Tax Clearance Certificate before you return to your home country. ITCC is a document that is issued by the Tax Authorities of India which legitimizes that an individual has cleared all his/her tax dues and has no pending liabilities.
Download Click Here and use our Android App to file Income Tax Return
Who Needs an Income Tax Clearance Certificate?
All individuals, at the time of leaving the country, who comply to any of the following conditions need an ITCC:
He/she is a NOT domiciled in India.
He/she has come to India for any business, professional and/or employment purposes.
He/she who has any income derived from any source in India.
Download Click Here and use our IOS App to file your Income Tax Return
Why Do You Need an ITCC?
The Govt. of India, under Section 195 of Income Tax Act,1961, levies a tax on all Non-Residents if they have earned any income from India. An ITCC certification, commonly referred to as NOC (No Objection Certificate), proves that the individual has cleared all his/her taxes that were due and is free to leave the country without worrying about any pending legal responsibility.
How Can You Get an ITCC?
You can get your Income Tax Clearance Certificate by any of the two ways:
If you are getting paid by an employer, an undertaking will be provided by said employer in the pre-defined format.
In case of a business, you will need to collect an undertaking in the pre-defined format from the concerned person in the business.
To get an ITCC issued, you need to download a copy of Form 30B, print it out and file it with the designated authority.
Download Income Tax Clearance Certificate for Residents and NRIs Form No.30B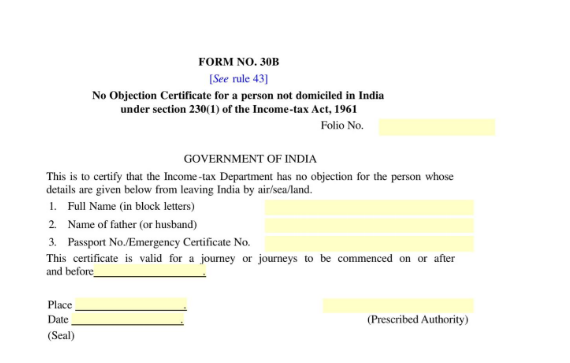 What Happens When You Don't Submit The ITCC?
If a non-domicile individual is travelling by aircraft or ship, it is the responsibility of the carriage owner to check the ITCC before he/she leaves the country. If he/she fails to do so, they become personally liable to pay the tax due on behalf of the passenger.
If an individual is travelling by a privately-owned aircraft or ship, the owner himself is responsible to pay the dues and get the ITCC as well. Failure in doing so will be treated as an arrear of tax on his/her part and will be recovered by the Tax Authorities of India.
Why Do Residents of India Need an ITCC?
Income Tax Clearance certificate is usually not required by Indian Nationals. If you are a citizen of India travelling abroad for work purposes, you simply need to provide your PAN, purpose of a visit outside India and the estimated duration of your stay. But in certain situations, even Residents require a No-Objection Certificate.
An individual who is involved in critical financial irregularities. Under the Income Tax Act, 1961, the individual might be required to be a part of the investigation. It is highly likely that the tax demand will be raised against him/her.
An individual who has any arrears in the direct tax he/she has paid exceeding Rs. 10 lacs outstanding against him and are not stayed by any authority.
An Assessing Officer is a person who can issue an ITCC for all domicile residents, only if he/she is convinced with your reason for leaving the country.