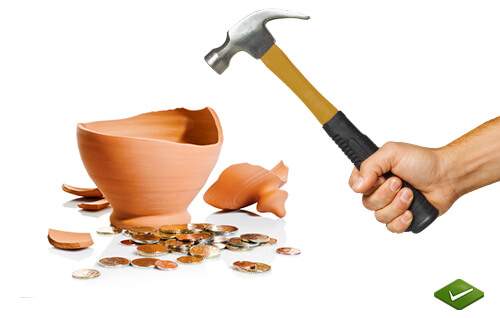 Income tax return imposed on EPF or Employee Provident Fund is an important matter of concern for the employees. There is traditional believe works on their mind that withdrawing money from EPF account is tax-free. In reality, EPF withdrawals are taxable depending on some conditions and in some cases, TDS also get deducted. So, let's see what is the condition that makes EPF withdrawal taxable.
If EPF withdrawals are made before completing 5 years of service period then RPF balance is taxable.
It is not compulsory that 5 years of service period must be completed with one employer to avoid Income tax return charges on EPF withdrawal. But it is essential that while leaving any organization, you must transfer your PF balance to the new organization's PF account. And this should be done every time changing the company during the 5 years time period. The condition is well defined in which TDS will be deducted on EPF withdrawal. If the amount to be withdrawn is more than INR 50,000 then tax will be calculated and such is applicable from June 2016.
Income tax return
The rate at which Tax Deducted at Sources will be cut is 10% of the withdrawn amount if PAN has been produced by the employee. In other cases when PAN is not submitted, TDS will be deducted at a maximum marginal rate of 34.608%. However, positive and negative exceptions are also there related tax liabilities on this amount. If EPF is transferred from one organizational account to another organizational account then it will be deducted.
Such charges will not be deducted only if the amount has withdrawn after 5 years of the service period. Also, if the employee submits Income tax return Form 15G or Form 15H, then no deduction will be made. Both these forms declare that their income will not be taxable after the accumulation of the EPF balance. Employees below 6o years of age need to submit the Form 15G and the employees above the age of 60 years need to produce 15H.
New EPF Withdrawal Rules has been introduced in October 2016, which added new conditions on TDS deduction.
Rule 1: Restriction on withdrawal:
Full EPF amount can be withdrawn until the age of retirement. The employer contribution and the interest earned on that amount can not be withdrawn till the retirement age. Only the employee contribution and interest earned on it can be withdrawn after 5 years of service period to avoid Income tax return liabilities.
But the female employees can withdraw the full amount if they are resigning from service to get married or due to pregnancy.
Rule 2: Retirement Age
The retirement age has been specified to 58 years but a person attaining the age of 57 can withdraw the 90% of total EPF balance without getting TDS deduction.
Rule 3: PF Membership and employment
The PF membership will continue until the age of retirement as no employee will be able to withdraw the full amount till that age except the exceptions.
This new Income tax return rules made for EPF withdrawal is beneficiary for the employees who have no pension as it will secure them financially post-retirement.