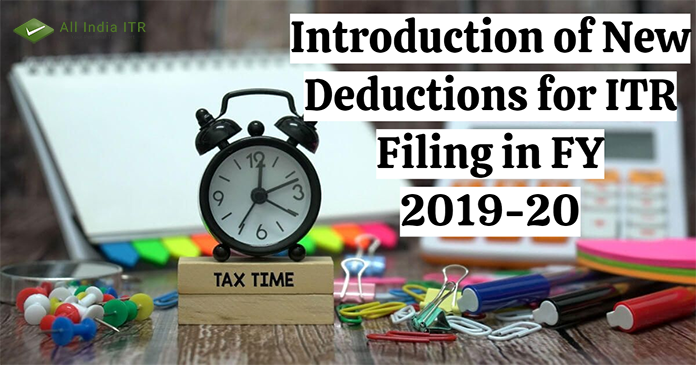 As the deadline for the income tax return filing (November 30) is drawing closer, most citizens are caught up with taking stock of taxes and investments. While it is an obligation of each resident to pay the eligible taxes there isn't anything wrong in sparing each penny of the money earned through genuine methods. Tax deductions available under the Income Tax Act are some of the basic devices to assist you to save taxes by reducing your taxable income which in turn reduces your tax outflows.
Since the current tax filing includes the salary acquired during the financial year 2019-20, you should check all deductions permitted in that financial year. Other than already available deductions, the government has likewise presented two new ones for the income earned during the financial year 2019-20, which individual citizens should observe. These are connected to the acquisition of affordable houses and electric vehicles.
Deductions for Interest on Affordable Housing Loan
A new deduction under Section 80EEA was introduced in the Finance Bill 2019 to provide an extra deduction of Rs 1.5 lakh on interest payment for a home loan taken for an affordable house. The housing loan ought to have been taken distinctly from a financial institution for the acquisition of a residential property. To claim the deduction in the current assessment year the home loan should be sanctioned by the financial institution between April 1, 2019, and March 31, 2020.
To be eligible for this deduction, the total value of the house estimated as stamp duty worth should not surpass Rs 45 lakh. You can claim this deduction only if you do not own any other residential house property on the date of sanction of the loan. It is over and above the existing deduction of Rs 2 lakh available on the installment of a home loan under Section 24b. Subsequently, this deduction will only be helpful if the absolute interest payment on your home loan was above Rs 2 lakh in the financial year 2019-20. Accordingly, you have to get hold of your home loan repayment statement and check the total interest paid during the year. On the off chance that it is above Rs 2 lakh and you satisfy all the fundamental conditions, ensure that you get an extra deduction.
Deductions for Interest on Electric Vehicle Loan
The government has been pushing green activities and offering incentives to promote the utilization of environment-friendly products. On comparative lines, an additional deduction of Rs 1.5 lakh was permitted under Section 80EEB by the government on the interest payment on loan taken for electric vehicles by individual taxpayers.
You have to have a vehicle loan just from a financial institution to be eligible for deduction under this section. The loan ought to have been sanctioned between April 1, 2019, and March 31, 2020. This deduction will likewise be in force in the future for loans sanctioned till March 31, 2023, for future assessment years. The interest amount on which a deduction is being guaranteed under section 80EEB can't be asserted against some other section of I-T Act.
Not all-electric vehicles are eligible to be claimed for this deduction. There are further conditions to be met. "Electric Vehicle means a vehicle which is powered exclusively by an electric motor whose traction energy is supplied exclusively by traction battery installed in the vehicle and has such electric regenerative braking system, which during braking provides for the conversion of vehicle kinetic energy into electrical energy," states the Finance Bill 2019. So, the deduction is mostly for new generation electric cars that meet the conditions.