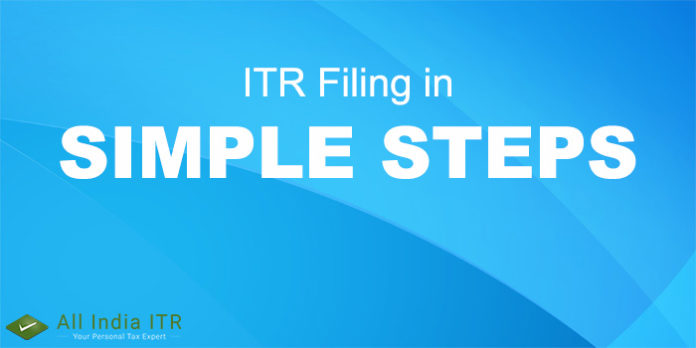 31st July 2018 is the last date to file Income Tax Return for the Financial Year 2017-18 or Assessment Year 2018-19. You must file your ITR as soon as possible because if you file Income Tax Return after the due date, you will have to pay some penalty to the Income Tax Department.
ITR Filing in simple steps
Download Click Here and use our Android App to file Income Tax Return
Generally, individuals use ITR-1 Form to file their Income Tax Return. Any Individual who has income from salary that does not exceed the limit of Rs. 50Lakh, can file their Income Tax Return using ITR-1 Form.
Here are some easy steps using which you can file your Income Tax Return quickly: –
Firstly, you will have to visit the official Income Tax Department's e-filing portal and then you will have to click on the right-hand side box, in order to log in.
Put your personal details to log in, to the website, you must keep your Aadhaar and PAN number by you side.
Next, you can click on the File Income Tax Return option.
Then you will have to choose the correct assessment year, correct ITR Form name and choose "Prepare and Submit online" option. After that choose the E-verifying option.
You will have to read the instruction on the ITR- Form carefully, before you File your Income Tax Return using the ITR Form.
Part A of the Form contains your personal information, which is generally pre-filled, in case you want to make any change, you can make the correction.
Part B is all about the income details and deductions. You also need to give income details over here, including salary and income from house property. You must know that, from this year onwards more details are required to be furnished under income from property head. Give deductions details too, which you want to claim or that you have already claimed.
Tax details about your salary are given on Form 16. In case of a house-property calculate the total tax and pay the required amount before submitting the form. You can also check 26AS to see whether your tax computation aligns with the form.
Once you have paid your taxes do not forget to verify your ITR. You can either send a copy of ITR-V to Bangalore office by post or you can e-verify it using your Aadhaar.
simple steps ITR