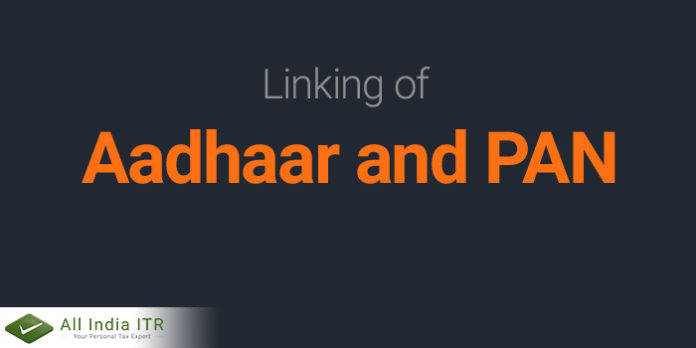 Earlier, the last date to Linking Aadhaar Card and PAN Card was 31st March 2018, the Central Board of Direct taxes or CBDT has extended the last date to linking Aadhaar Card to PAN Card to 30th June 2018. In 2017, it was announced that you will have to link your Aadhaar and PAN and it was made mandatory for all the citizens of India, whether someone files Income Tax Return or not. The government of India, in the union Budget 2017, introduced a law which made it a must for everyone with a PAN to linking it with their Aadhaar. In case someone is applying for a new PAN, an individual is required to provide his/her Aadhaar Card details.
Download Click Here and use our Android App to file Income Tax Return
Though the Government gave ample amount of time to the taxpayers to link their Aadhaar Card with PAN card, but there are many individuals who did not link their PAN Card with the Aadhaar Card. We would suggest you to linking Aadhaar with PAN as soon as you can, in order to avoid the situation where your PAN becomes invalid. Moreover, if you have filed your ITR without linking PAN and Aadhaar, you must link the same before 30th June 2108 so that your ITR is not rejected by the tax department for processing.
Download Click Here and use our IOS App to file your Income Tax Return
This is how you can link Aadhaar Card with PAN Card: –
Click on the linking Aadhaar Option on the official E-filing portal of the Income Tax Department. A form will appear where you are supposed to enter details like PAN number, Aadhaar number, Name as per Aadhaar etc.
In case your Aadhaar only has your year of birth, then, in that case, you will have to tick the option: I have only year of birth in Aadhaar card.
Then enter the captcha code and click on submit. Once submitted successfully, a message will appear on your screen showing your PAN is successfully linked to Aadhaar.