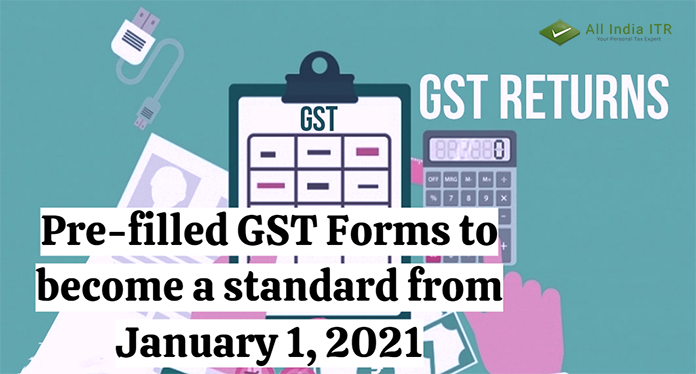 Businesses must prepare for another pattern that is set to characterize Goods and Services Tax (GST) return filings—pre-filled GST forms and higher transparency requirements. Rolling out the self-policing measures that the innovation-driven indirect tax framework is capable of is gathering pace with the GST Council on Monday clearing key changes to the return filing process.
According to the most recent changes, the month to month tax returns of organizations giving an outline of all transactions in structure GSTR 3B will be naturally populated from the details given in the sales returns of the organization as well as that of each of its suppliers filed earlier in the month in form GSTR 1. These changes would be effective from January 1, 2021. For small businesses that file returns on a quarterly premise, this would happen from April 1 next year.
To enable this move, filing of month-to-month sales returns in the GSTR 1 form will be compulsory by the 13th of every month. GST laws will be changed to make this new return filing strategy the default framework. While auto-population of GSTR 3B will help businesses to avoid clerical errors, it will assure the government that discrepancies in the figures are minimized," said Abhishek Jain, tax partner at EY.
In another measure to guarantee greater transparency and precision of description of the products sold, organizations with sales more than Rs.5 crore will have to identify the goods sold in invoices and in sales returns by an internationally acknowledged six-digit code under the harmonized system of nomenclature (HSN) utilized in cross-border trade. In the case of services, a service accounting code issued by the central government must be utilized. The government can notify eight-digit codes on specific products.
From 1 January onwards, GST discounts will be transferred only to the bank accounts which are approved with PAN and Aadhaar. To make a refund application, businesses can utilize an OTP which is generated using Aadhar. This move is expected to bring a higher level of transparency for an individual claiming a tax refund. The step was introduced after investigations revealed that different organizations vanish after getting their refund. Another key step to support transparency that came into power from October 1 is the e-invoicing of business to business transactions for the companies with more than Rs.500 crore sales. The steady releasing of the power of technology to check tax evasion came at a point when central and state governments are confronting an extraordinary drop in tax revenues but are unable to raise tax rates. People having high authorities had to move slowly in venturing up the tech-driven compliance boosting measures given the monstrous reaction from independent companies and traders in the early stage of GST execution. From October 1, sellers with sales more than Rs 10 crore have to collect the income tax at the rate of 0.1% (0.075% up to 31 March 2021) if the sale consideration received is above Rs. 50 lakh in the financial year.