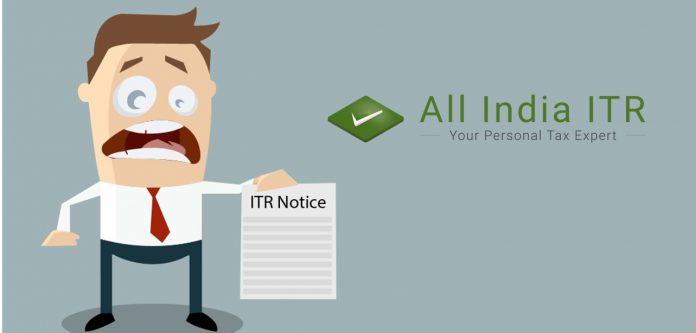 The fact that you receive mobile messages urging you to e-file your income tax returns these past few years means that the income tax department is aware of your money matters. Due to increased emphasis on KYC norms and online mechanisms for declaration of taxes sifting through your details has become just a matter of a few clicks on a computer. That is the reason for the continuing stress on disclosure of all sources of income, high value transactions and mandatory filing of ITRs for every person, firm, resident and non-resident who obtain an earning in India. Many people with a single source of income would have tried filing their ITR on their own. If you have received a tax notice do not panic. Most Notices that are sent to tax assessees are mere intimations for rectification.
Who Should File their ITR and How?
Section 139(1) says that every person, company or firm whose income for the past financial year exceeded the minimum threshold for which tax exemption is provided must furnish a return of income in the manner prescribed. The manner prescribed is online filing. For companies and other businesses, identifying and handling risks in terms of compliance is very important to maximise profit margins and not tear a hole in the bottom line through penalties and expensive litigation.
An individual may even get a tax notice if her company has deducted taxes in the form of TDS but she hasn't filed her return. This kind of tax notice may be served for failure to file a return in any of the last 6 assessment years. That is why obtaining a TDS certificate or Form 16 from your employer is so important for a salaried individual.
Are there Penalties for Delayed ITR filing?
You may be liable to a penalty of up to Rupees 5000 for failure to file returns. This is the last assessment year for which such a lapse can be excused and the penalty waived off if the Assessing Officer believes there were genuine reasons for the delay. According to Section 139(8) if no return is filed by the due date, the tax assessee is liable to pay simple interest at the rate of 15% on the tax demand reckoned from the day immediately after the specified last date for filing that return.
From the Assessment Year 2018-19 there will be a penalty ceiling of Rupees 10,000 apart from interest to be levied from the due date of filing returns. The only relief is that the fine cannot exceed Rupees 1000 for all persons earning less than Rupees 5 lakh in a year.
What is a Tax Notice for Rectification?
A notice under Section 139(9) is given to taxpayers for making corrections for errors determined by the AO prior to the assessment such as an incorrect ITRs form, income head mismatches and so on. Normally, a period of 15 days from the date of issuing the notice is given to make the recommended corrections. If you fail to rectify the return within the grace period you will be treated as if you did not file the return at all. However, the AO, may, at her discretion, grant you relief from interest on tax demand and/or penalty.
Resolution Steps
Responding to an income tax notice for rectification of ITR is simple. You will need to login to the official income tax portal and click on the option that says, 'In response to a notice under section 139 (9) where the original return filed was a defective return.' Follow the process to e-file your ITR after selecting the correct ITR form in a manner similar to when you filed the return for the first time.
Identify risks early and handle them effectively using assisted e-filing of rectified ITRs with the help of AllindiaITR, makers of one of the most popular return filing apps for your mobile. We are a product of Corwhite Solutions Private Limited.