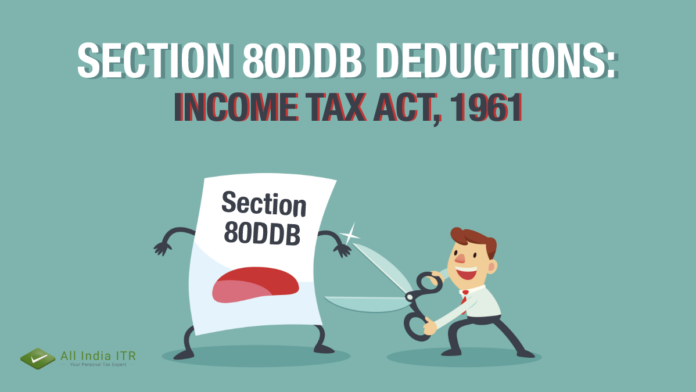 The deduction under Section 80DDB is given on the expenditure on the medical treatment of specified diseases for the dependent of a taxpayer who is a Resident Individual or HUF if the differently abled person is solely dependent on the taxpayer for support and maintenance. NRIs cannot claim this deduction.
Amount of deduction under Section 80DDB
The tax deduction which can be claimed depends on two factors – amount of expenditure and the age of the dependent. The amount is capped at:
The actual amount being paid for the treatment
or the sum of Rs. 40,000 /– (in case the dependent is not a senior citizen)
whichever amount is less.
In case the dependent is a senior citizen, the maximum amount is capped at Rs 1 lakh.
| | |
| --- | --- |
| Patient's Age | Maximum Limit |
| Individuals (less than 60 years) | Rs 40,000 |
| In case of a senior citizen (aged 60 years or more) | Rs 1,00,000 |
List of Specified Diseases under Section 80DDB
| | |
| --- | --- |
| Specified Diseases | Prescription in respect of these diseases shall be issued by |
| Neurological Diseases (with disability level certified 40% and above) DementiaDystonia musculorum deformansMotor neuron diseaseAtaxiaChoreaHemiballismusAphasiaParkinsons disease | Neurologist (having DM or equally recognized degree) |
| Malignant cancers | Oncologist (having DM or equally recognized degree) |
| Full Blown Acquired Immunodeficiency Syndrome (AIDS) | A Specialist (having PG in general or internal medicine or equivalent degree) |
| Chronic Renal Failure | Nephrologist (having DM or equally recognized degree) Or Urologist (having MCh in Urology or equivalent degree) |
| Hematological disorders HaemophiliaThalassemia | A Specialist (having DM in Hematology or equally recognized degree) |
Documents required to claim deduction under Section 80DDB
Tax deduction under Section 80DDB can be claimed at the time of filing ITR. Proof of the medical treatment being undertaken and the prescription from the doctor stating the person is suffering from any disease specified under Section 80DDB is required. The prescription should have the following details:
Name of the Patient
Age of the Patient
Name of Disease or Ailment
The specialist doctor issuing the prescription must specify their name, address, qualification and registration number.
In the case that the treatment is being undertaken in a government hospital, the name and address of the government hospital must be mentioned.
The form must be signed by the head doctor in the hospital as per the case.
Key Points to Remember
The amount of tax deduction is based on the age of the person availing the medical treatment and not on the age of the taxpayer claiming this deduction.
The deductions are always claimed with regards to the actual expenses that taxpayer has incurred during the relevant financial year.
If the dependent is already having an insurance with any insurer or company and has received some payment either from the insurer or by way of reimbursement from their employer- this insurance amount has to be subtracted from the deduction allowed.