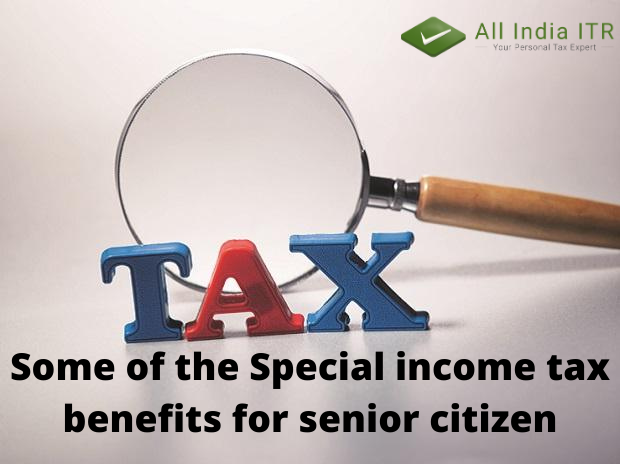 The Indian Income Tax Act extends some tax incentives to senior citizens while still seeking to make income tax e-filing as easy as possible. This report compiles a detailed list of all the tax incentives applicable to senior citizens.
Benefits of slab rates
Senior citizens are exempted from paying taxes if their taxable income is up to 3lakh.
Similarly, super senior citizens are exempted from paying taxes if their taxable income is up to 5lakh.
Read more about updated Slab Rates
Interest Income exempted up to Rs. 50,000
With impact from the 2018-19 financial year, a new Section 80TTB has been enacted, which provides for a deduction of Rs. 50,000 for interest. The money raised above Rs. 50,000 will be charged at the Senior Citizens Slab Rates.
Deductions under section 80D for payment of Medical Insurance Premium
For non-senior citizens, the deduction permitted under section 80D for payment of medical insurance premiums is Rs 25,000. For Senior Citizens, however, the deduction is raised to Rs 50,000. (increased from Rs. 30,000 to Rs. 50,000 in Budget 2018 and applicable from 1st April 2018)
Furthermore, in the case of very super-senior citizens, i.e., persons over the age of 80, a deduction under Section 80D is allowed not only for the payment of Medical Insurance Premiums but also for the real cost of service received by very super senior citizens.
Exempted from payment of advance tax
Senior citizens who do not have corporate income are excluded from paying Advance Tax and must only pay Self Estimate Tax on their gross income. (Finance Act 2012)
Non-deduction of TDS on Interest
If a senior citizen's Total Income is up to minimum taxable income, he can file Form 15H for non-deduction of TDS on interest of a fixed deposit. Form 15H must be filed in case of senior citizen, while Form 15G must be filed in the case of non-senior citizens.
Higher Deduction under Section 80DDB for an ailment of specified disease
Section 80DDB allows an assessee to withhold expenses for the care with such illnesses. Previously, this provision called for a deduction of Rs. 60,000 for Senior Citizens and Rs. 80,000 for Super-Senior Citizens. With impact from FY 2018-19, this has been raised to Rs. 1,00,000 for both Senior and Super Senior Citizens. (Amendment made under Budget 2018)
No tax on the amount received under the Reverse Mortgage scheme
According to the Reverse Mortgage Scheme, at the borrower's passing, the debt is repaid with accrued interest by the auction of the house property, with the remainder going to the lawful heirs.
Also Read: How to e-verify your Income Tax Return
Note: From Financial Year 2018-19 onwards, Senior Citizens getting Pension Income can also claim standard deduction of Rs. 40,000 from their Pension Income.
For further query visit All India ITR