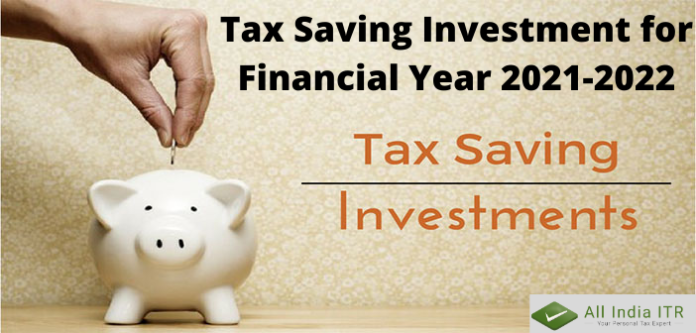 The financial year 2021–2022 has recently started. If you want to invest your saved money or want to generate a positive return, you should start preparing your investment since the beginning of the fiscal year.
Reason Why?
1) You will get proper time to think on the objective behind your investment
2) You will get time to discuss with your adviser about your goals and co-relate your investment with your goal
3) You can maximize returns on your investments, as you are investing at the beginning of the financial year
Read About: Complete Process of filling ITR through All India ITR
Under 80C
Section 80C is one of the most well-known and common section with taxpayers because it helps them to limit their taxable income by making tax-saving contributions or incurring qualifying expenses. It allows a cumulative deduction of Rs 1.5 lakh from the taxable income of the taxpayer per year.
1) Tax saving Fixed Deposits: –
FDs are a good investment opportunity because of its structure. If you invest in a tax-saving FD scheme with a minimum lock-in term of five years, you will get a tax deduction of up to Rs. 1.5 lakh under Section 80C.
2) Public Provident Fund (PPF): –
A limit of 1.5 lakh can be invested in a financial year by PPF account holders. PPF (Public Provident Fund) is a common investment scheme that provides a haven for money while also provides income tax advantages. Per financial year, PPF account holders can spend up to 1.5 lakh.
3) Sukanya Samriddhi Yojana: –
Sukanya Samriddhi Yojana is a government of India small deposit scheme designed specifically for girls and launched as part of the Beti Bachao Beti Padhao campaign. The program is designed to cover the costs of a girl's schooling and marriage.
4) Insurance plans: –
Investing in life insurance policies to protect the family's security is also a tax-deductible contribution under Section 80C of the Income Tax Act of 1961.
6) Equity oriented Mutual Funds: –
An equity-oriented combination fund spends at least 65 percent of the portfolio on equities. A debt-oriented hybrid fund, on the other hand, spends more than 65 percent of its assets in debt securities and the rest in shares.
Under 80D
Section 80D of the Income Tax Act deals with tax benefits available on the amount a taxpayer pays as the premium for health insurance coverage . The deductions are also available on health top-ups, super top-ups, and critical illness cover.
5) Medical Insurance plans: –
It should be the first and most critical investing strategy. We all know how critical medical situation are we dealing with our lives right now, as a result of COVID-19. It is a tax-deductible investment under Section 80D of the Income Tax Act of 1961.
Also Read: Tax Saving Investments and Tips
For more query visit All India ITR