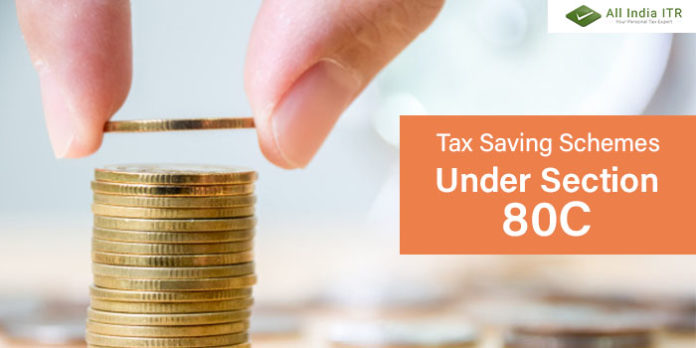 Its that time of the year when every taxpayer is running from pillar to post, in order to save some taxes. Well, here's is a list of tax saving schemes under section 80C, that can help you to save good amount of taxes.
Tax Saving Schemes under Section 80C :-
Investment in ELSS
If you invest in ELSS or tax saving mutual funds, it is considered to be the best investment if you wish to save taxes. ELSS is designed in such a way, that it can give you dual benefit of tax saving and receive higher returns on investment. Locking period of this scheme is 3years. It gives higher returns than FD, PPF, NPS etc. Interest earned from this scheme is totally tax-free, unlike other schemes.
Investment in FDs
The FDs are just like general fixed deposits, but they have a lock-in period of 5 years and a deduction of up to Rs. 1.5Lakh can be claimed under section 80C. They can be opened by Resident Indian Individuals. The minimum investment limit of this scheme is Rs. 1000. Interest earned from this scheme is taxable.
Investment in PPF
Public Provident Fund or PPF is a long-term investment plan supported by the Government of India. Deposits made under PPF account are eligible for tax deduction under section 80C. This account can be opened by a Resident Indian, salaried or Non-salaried individual. HUFs cannot open PPF account. PPF accounts have a lock-in period of 15 years, which can further extend to 5 years. Partial withdrawals are allowed from this account after 7 years.
Investment in EPF
Employee Provident Fund or EPF is a retirement benefit scheme, that is available to all the salaried employees. This comes up to 12% of the salary that is deducted by an employer and deposited in the EPF or another provident fund. This account can be opened by anyone who earns more than Rs. 15,000 of salary.
If, you wish to save the maximum amount of taxes this tax season, then invest in the above-mentioned schemes a claim deduction under section 80C.