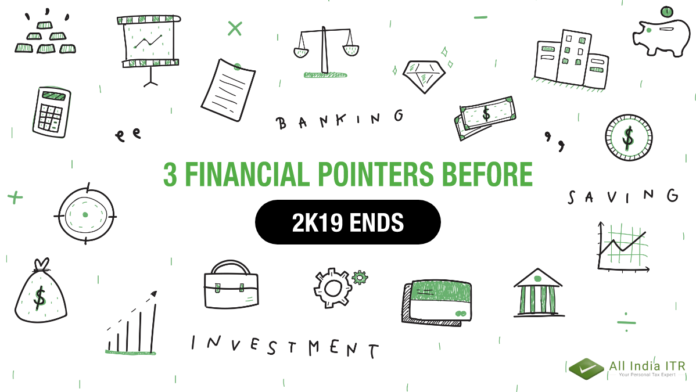 We are nearing the end of another decade with only two days of 2019 left. Everyone probably has their plans set for New Year's with the holiday spirit continuing after Christmas, but are your financial responsibilities for this year over? We've listed three pointers, in case you missed them, for you to follow for a trouble-free New Year before you put on those party shoes!!
Linking your PAN card to Aadhaar card has become mandatory as it becomes invalid after December 31, 2019. From the beginning of this financial year, the Income Tax department had made it compulsory to link PAN with Aadhaar especially while filing your income tax return (ITR), unless specifically exempted. The deadline for this has already been extended from September 30, 2019 to December 31, 2019. Let's not miss this one!
If you have not filed your ITR yet, you can file a belated income tax return. The deadline is December 31, 2019, after which taxpayers will have to pay a hefty penalty. Budget 2017 introduced the law of levying late filing fees under section 234F of the Income Tax Act, 1961 and it became effective from FY 2017-18 or AY 2018-19 onwards. Basically, if you file your belated ITR on or before December 31st, you will have to pay a late fee of Rs 5,000. However, the fee becomes Rs 10,000 if you file it after December 31, 2019 but before the end the relevant assessment year, i.e., before March 31st (in this case between January 1, 2020 and March 31, 2020).
Advance Tax (North-eastern States)
The Central Board of Direct Taxes (CBDT) has extended the deadline for payment of third installment of Advance Tax for FY 2019-20 for the north-eastern states of India. The date has been extended from December 15, 2019, to December 31, 2019, amid the recent disturbances that have taken place in those regions.
Check these tasks off your list before the party because who wants to start the new year with a notice from the IT department? Here's to a financially responsible New Year's Eve!