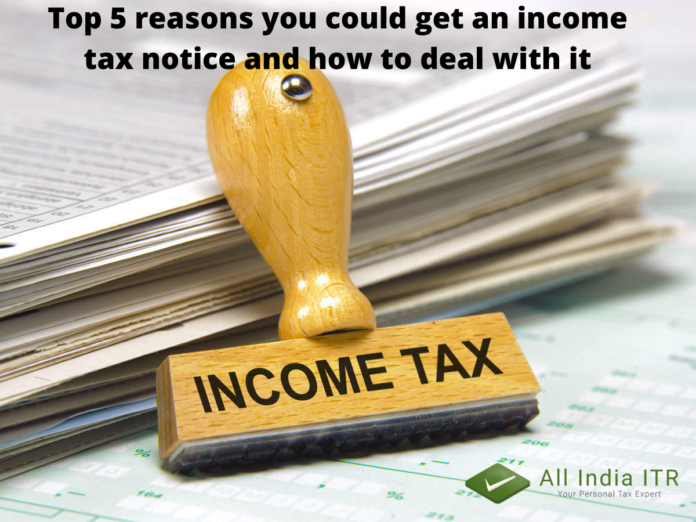 An Income Tax notice from the Department of Income Tax is not something that anyone likes to find in their letterbox. There could be several reasons one might receive a notice even after you have filed your ITR before the due date.
Let's understand Scrutiny assessment and its types:
The tax department reviews the returns submitted and if it has any reason to suspect that the information declared by the assessee is inaccurate or incomplete, then the case is taken up for scrutiny. The assessee is notified through a notice and is expected to take the necessary actions as mentioned by the department.
There are two forms of scrutiny evaluations: manual and compulsory scrutiny cases. Although the reasons for manual selection for scrutiny are case-specific and can be avoided with little consideration by the assessee. Whereas, compulsory selection can't be avoided.
Now let's know why we end up receiving notices and also how we can prevent the same to a certain extent (if not completely).
1. Delay or Non-filing of Income Tax Return (ITR):
You must file your ITR prior to the deadline for each and every assessment year. You will receive a notification to do so if you are approaching the ITR filing deadline but still haven't submitted your returns. Under Section 142(1)(i) of the Income Tax Act, a notice may be released that requires you to file the return. Also.,
Any individual whose gross income (without deductions) is more than the exempt limit (Rs 2,50,000 for individuals under 60 years of age) is required to submit an annual income tax return in due time.
You must file an Income tax return, regardless of your income, if you are an Indian resident owning a foreign asset or are an authorized signatory in a foreign bank account.
You have to file your ITR to escape notice, even if your employer has already deducted TDS from your pay.
To Avoid: For an individual assessment year, you must pay the advance taxes on time and file an ITR within the ITR filing due date.
2. Mismatched Form 26AS and TDS claimed
Preferably, the TDS in Form 26AS and Form 16 or 16A should be the same when filing ITR. There may be many explanations, as to why certain data may be mismatched.
To Avoid:
As a precaution, one should review the TDS reported in Form 26AS before submitting the income tax return and ensure that the TDS is correctly reported by multiple deductors, and then continue to file the income tax return.
If there is a mismatch, the assessee has to contact the respective deductor to update their reportings. Also, request them to deposit the amount with the government treasury and file a TDS return in due time.
3. Non-Disclosure of Income
If the income tax authorities assume that not every income from different sources has been reported, then you will be issued with a notice for non-reporting purposes. Interest income on the savings account, fixed deposits, and revolving deposits are usually overlooked by people.
To Avoid: You should compile all your financial statements and proof of all your sources of revenue, including payroll, bank statements, invoices, etc.,
4. Filing Defective Return
A tax return is considered to be defective if, it has not been filed with all the correct details or records as required under the law. Suppose a taxpayer, for instance, is expected to furnish ITR Form-2, but he furnishes ITR Form-1. In this situation, the department issues a notice of defective return requesting the taxpayer to rectify the same.
To Avoid:
Make sure that the return form you are submitting is the right one for the income you are reporting.
It is advised to take professional guidance wherever you find difficulty in filing your return.
5. High value or Unnatural transactions
You may expect a notice from the Income Tax Department if, you have entered into any high-value transactions with some entity or individuals. Following transactions can be defined as high-value transactions:
An aggregate of Rs. 10 lacs or more of cash deposits in the bank
Payment of Rs. 2 lacs or more via., credit card.
Mutual fund investment of Rs. 2 lacs or more.
Investment in debentures or bonds of Rs. 5 lacs or more, in a company.
Investment in, a company's shares of Rs. 1 lac or more.
Purchasing Rs. 2 lacs or more of jewelry.
To Avoid: Any transaction you might have made, report it. Even if there is a loss, such as a loss in share trading, in order to prevent notice, it must be reported to the department. And make sure you have your PAN number to protect yourself when participating in such transactions.