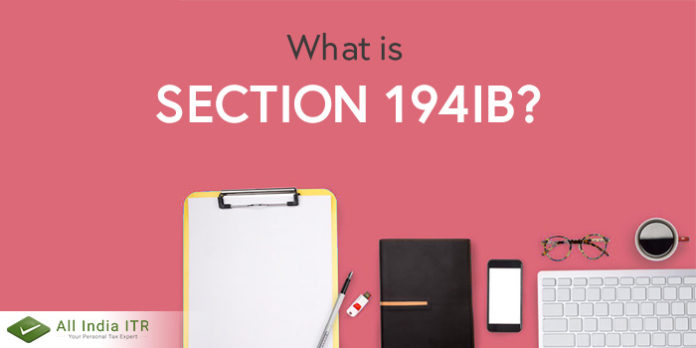 The Section 194IB came into being after the Finance Act 2017, according to which there will deduction of TDS if a taxpayer's rent exceeds the amount of Rs. 50,000 for a month or part of a month. This section is valid for the salaried individual too, as they will also have to pay TDS if their rent per month exceeds the amount of Rs. 50,000.
section 194IB
Section 194IB is applicable for the following types of taxpayers: –
Section 194IB is applicable to individuals and HUFs who does not fall under the scanner of tax audit according to Income Tax Act.
The rate at which TDS is deducted, shall be 5%.
The tax mentioned-above will be deducted, when the rental expense for the last month of the previous year or the last month of tenancy, if the property is vacated during the year is booked in books of accounts, or at the time of payment, whichever is earlier.
The tax deductor may not require a tax deduction number, in order to deduct TDS under section 194IB. The Central Board of Direct Taxes has notified that form 26QC should be use for the filing of return, as this return is PAN based. The taxpayer is required to submit this form within 30days, from the end of the month on which the TDS was deducted.
Form 16C is the certificate of deduction of TDS, which should be submitted to the taxpayer within 15days from furnishing the challan cum statement.
1% interest will be levied if the Tax Deducted at Source is not deducted and 1.5% interest will be levied if TDS is deducted but not paid to the Government.
A penalty of Rs. 100 is levied per day from the due date on which TDS was supposed to be paid. The total amount of Penalty should not be more than the amount of TDS.