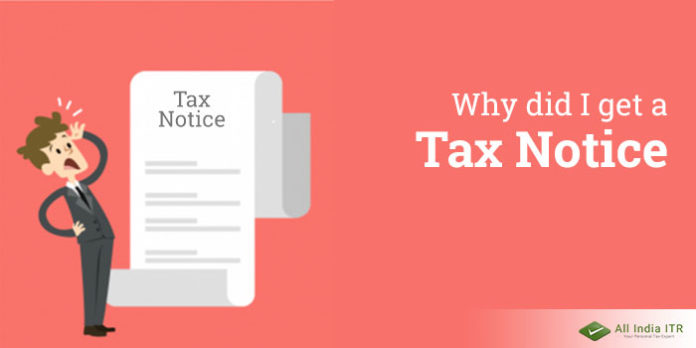 One might panic when one receives a tax notice, even though the reason for getting it could be a minor mistake. Thus, it's substantial to have a grasp on the concept of the reasons of getting such notices.
Download Click Here and use our IOS App to file your Income Tax Return
I get a Tax Notice
AllIndiaITR helps you by handling all your tax-related troubles. For tax notices, go to the How to respond to a Tax Notice page. Here, your queries will be addressed by a tax expert and you will be assisted in drafting a correct reply to the notice obtained.
Download Click Here and use our Android App to file Income Tax Return
Follow these simple steps to avail our Tax Notice services:
Buy the Tax Notice plan
You will receive a call back from our tax expert
Upload the documents as advised and depending upon your tax implication
A tax expert will then begin with the process
Let's understand the basics first.
What is a tax notice?
A tax notice is a signal sent by the Income Tax Department via physical mail to the taxpayer's address or on email. The Central Processing Centre (CPC) processes the online tax returns. You can receive a tax notice for several reasons – some requiring due caution and some are just informative.
Below are the reasons why you may get a tax notice.
Tax return has not yet been filed
If you have not filed your income tax returns in the past few years then you could receive a notice from the Income Tax Department intimating you about the same.
The unexpected drop in earning
If your income for the current year is much lower than that of the last year, then the IT department may go for reviewing some of your documents. The department will send you a notice for explaining the income drop. Although, such problems occur mostly with businesses and not with salaried individuals.
Exempted Income not declared
If you have not disclosed any additional income or any exempted income in your tax return, the IT Department will send you a notice to do so and may even like to check your documents.
Transactions of high volume
A notice can be issued by the Income Tax Department if you carry out a high volume transaction. High-value transactions include deposits of more than 10 lakh rupees in a financial year, purchase of any immovable property worth more than 30 lakhs, purchase of gold exceeding 1 lakh, etc. You will be required to report such transactions to the Income Tax Department with detailed information about the same.
Large deposits
If you have deposited cash in large quantity into your bank accounts, especially after demonetization, then you must have already received a notice from the IT Department. These days, the government has been scrutinizing suspicious transactions even more.